Kathleen and Brian Melonakos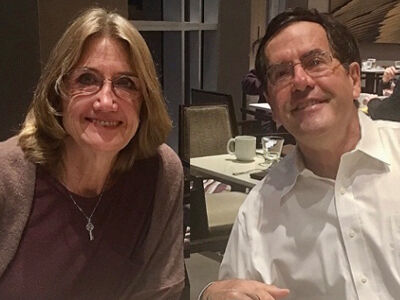 Kathleen (author, retired R.N.) and Brian Melonakos (former Company President) became saved in the early 2000s. They are active in both evangelism and political activism. Their program seeks to educate and activate Christians at the grassroots level, helping them to live out their responsibility to influence government and civic affairs for good. It has never been more evident than in the year 2020 that spiritual wars are manifesting in the governmental arena and throughout our culture. History has clearly shown that Christ is required to overcome the natural tendency of powerful forces to destroy God-given rights, including the right to hear and speak His truth.
Show Links:
---
Kathleen Melonakos - I have been married to Brian Melonakos for many years and we are the proud parents of three daughters and have two grandchildren..I am a retired RN, having worked in both hospital and office settings. I also studied philosophy at Stanford and attained a Masters degree. I am the author of several books including the Saunders Pocket Reference for Nurses and Secret Combinations: Evidence of Early Mormon Counterfeiting on Mormon Church origins. I was raised an active Mormon and am descended from one of the earliest Mormon leaders – Heber C. Kimball. But years of study and prayer led me to a true knowledge of Christ.
Brian Melonakos - I was born and raised in Michigan in a Mormon family. After earning my Bachelor's degree in Economics, we left the church of our upbringing, but did not easily find a new spiritual path. I obtained my MBA from the University of Michigan and launched a corporate career, becoming a successful international corporate executive in the medical device industry and have run three company divisions. I found Christ, or more accurately Christ found me, in the year 2001. I wrote one book Counselor Dad Life Tips, about practical life advice your dad should have told you and maybe didn't. Currently, I am a leader in several organizations, including the National Center for Law and Policy, which defends religious liberty, in addition to serving as a Deacon in my local Church.