Weeping, Pleading, and Speaking - Truth For Life - September 17
Crosswalk.com

Then Esther spoke again to the king. She fell at his feet and wept and pleaded with him to avert the evil plan of Haman the Agagite and the plot that he had devised against the Jews.
Self-interest is never acceptable for the child of God.
If Esther had only been interested in making sure that Haman received his just deserts and that her own life was saved and her own exalted status secured, then her purpose would have been completed with Haman's death. Her aim, however, encompassed not only Haman's punishment and her own security but the salvation of the whole Jewish nation. For Esther, rescuing herself was not enough as long as her people still faced annihilation.
As Esther "spoke again to the king," it was only a matter of hours since Haman had fallen at Esther's feet, concerned only for himself (Esther 7:7-8). She, by contrast, fell at the king's feet concerned only for her people. She could not bear to see their destruction.
Centuries later, another Jew, when his life was radically grabbed hold of by God, stated, "I have great sorrow and unceasing anguish in my heart. For I could wish that I myself were accursed and cut off from Christ for the sake of my brothers, my kinsmen according to the flesh. They are Israelites, and to them belong the adoption, the glory, the covenants, the giving of the law, the worship, and the promises" (Romans 9:2-4). The apostle Paul wasn't content that he alone had met Jesus on the Damascus road. He longed to see his people come to a saving knowledge of Christ. In this he followed his Lord and Savior, who came from His heavenly throne to the squalor of a stable in order to lift His people from the miry pit and take them to His eternal paradise. The Lord Jesus Himself wept over those who would not see that in His coming, God was offering them peace instead of conflict and rescue instead of judgment (Luke 19:41-44).
When a man or woman comes to know Christ's salvation, not only are they set in a right relationship with God; they also become aware that those who are unconverted are in a wrong relationship with God and are facing judgment and an eternity outside of His loving presence.
We should never be like Haman, concerned only for ourselves. God forgive us when we are. It is right for us to weep as we recognize the calamity that is facing people if they will not find refuge in Christ—our family, friends, and neighbors included. Like Paul, we should care more for their salvation than our own. But, also like Paul, we can do more than cry, for our tears can be accompanied with prayers that those we love would turn to Jesus and embrace Him as their Messiah, and with a proclamation of the gospel, in the hopes that the Lord will use us to divert their path from death to life, just as He used Esther to rescue the Jews. Who will you weep over, pray for, and seek to speak to?
As a thank-you from us for your gift, we'll send along this month's resource: How Christianity Transformed the World by Sharon James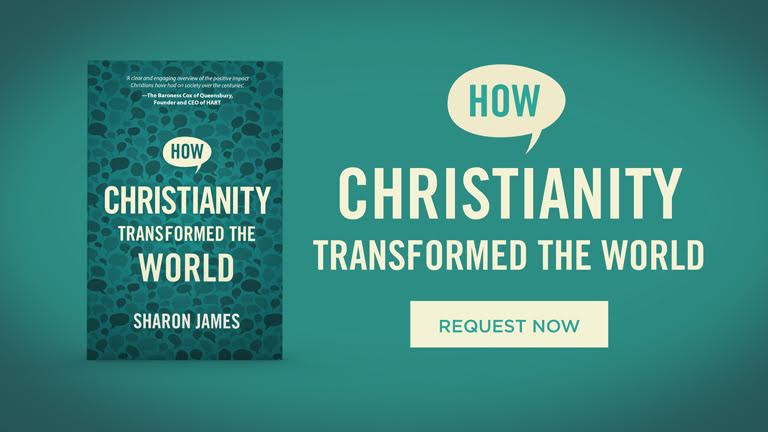 Click here to learn more about Truth For Life
Devotional material is taken from the Truth For Life daily devotional by Alistair Begg, published by The Good Book Company, thegoodbook.com. Used by Truth For Life with permission. Copyright © 2021, The Good Book Company.