Does God Need Us? - Truth For Life - September 16
Crosswalk.com

Then Queen Esther answered, "If I have found favor in your sight, O king, and if it please the king, let my life be granted me for my wish, and my people for my request. For we have been sold, I and my people, to be destroyed, to be killed, and to be annihilated. If we had been sold merely as slaves, men and women, I would have been silent, for our affliction is not to be compared with the loss to the king."
We take risks and serve our God because our success does not rest on us.
The moment had come for Esther to act on Mordecai's challenge and speak to the king for the sake of God's people (Esther 4). She purposefully used the words of the edict: "destroy," "kill," "annihilate" (3:13). Moreover, Esther didn't plead with the king based on his sense of morality. Instead, she made her appeal on the strength of the king's self-interest—the killing of his favorite queen. Esther skillfully spoke in such a way as to turn the spotlight on Haman without implicating the king. When the king asked, "Who is he, and where is he, who has dared to do this?" (7:5), Esther might have justifiably shown him a mirror—but that would not have been smart!
Through all of this, God was at work in events over which Esther had absolutely no control. And He was also at work in the way in which Esther exercised her wisdom, skill, obedience, and so on—aspects of her personhood over which she did have control.
It isn't that God needed Esther so badly that if she didn't act, His plan would have failed. That would be to give too much prominence to human responsibility. But neither is it true that God was going to do whatever He wanted regardless of Esther's involvement. That wrongly divorces His sovereignty from human engagement. This is a great mystery! God may purpose to use human agents, but He can work without us. And even when He does use us, success depends upon neither His agents nor what they do.
This is true for us as we endeavor to tell people about Jesus or teach God's word. God could reveal Himself however He sees fit and grow the faith of His people however He wishes, but He gives us a part to play. He tells us to teach, to encourage one another, and to proclaim the gospel. And so we do. But in the end, we know that no heart-and-life transformation is ever achieved apart from the work of the living God. He is the only one who softens hard hearts and opens darkened eyes. He is the only one who can ordain both the means and the end.
And it is because God is sovereign that you have every reason to act in obedience to Him. Though success is not dependent upon you, the God who made the entire universe has chosen to use you. He will complete His good work (Philippians 1:6). He will use His people to reach His people and serve His people. Let this understanding humble you, even as it gives you encouragement to face the tasks to which you have been called, to take risks, and to serve and obey Him as He works in and through you.
As a thank-you from us for your gift, we'll send along this month's resource: How Christianity Transformed the World by Sharon James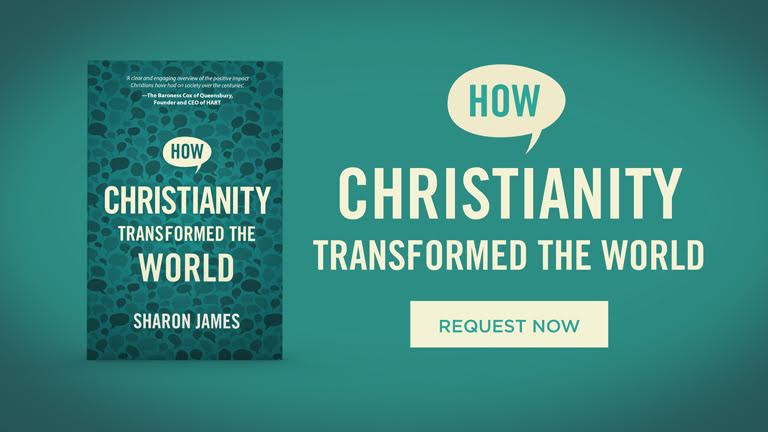 Click here to learn more about Truth For Life
Devotional material is taken from the Truth For Life daily devotional by Alistair Begg, published by The Good Book Company, thegoodbook.com. Used by Truth For Life with permission. Copyright © 2021, The Good Book Company.