4:00 - 9:00 PM on Friday, September 20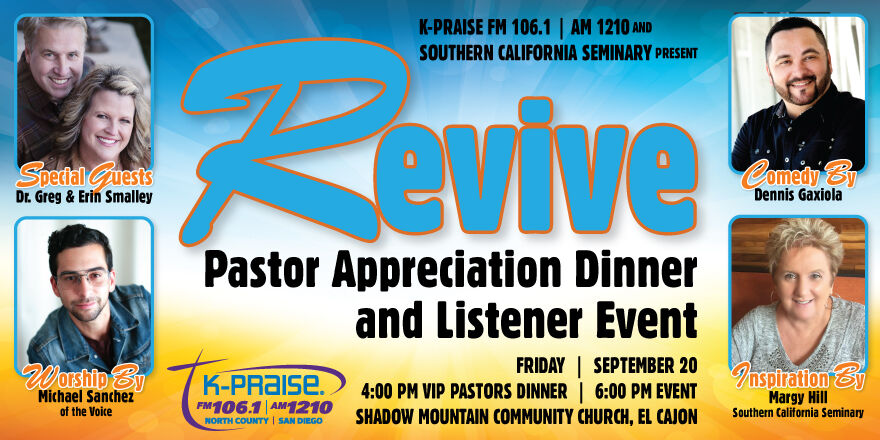 K-Praise and Southern California Seminary present REVIVE Pastors Dinner and Listener Event.
Join Focus on the Family's Greg and Erin Smalley at the K-Praise REVIVE Pastors Appreciation Dinner (VIP Pre-Reception) followed by the Listener Event presented by Southern California Seminary at Shadow Mountain Community Church in El Cajon on Friday, September 20, 2019.
REVIVE your marriage and future marriage!
Dr. Greg and Erin Smalley guide couples towards creating deeply satisfying marriages, faith, family and the importance of healthy friendships.
Worship by Michael Sanchez of The Voice, Entertainment with Christian Comedian Dennis Gaxiola, and Inspiration by Margy Hill with Southern California Seminary.
4:00 PM REVIVE Pastors Dinner: Free VIP Pre-Reception Dinner for Pastors, Ministry Leaders, and one guest.
6:00 PM REVIVE Listener Event: Tickets Starting at $15 each (or $25 per couple) includes coffee and dessert. Pastors and Ministry Leader's admission to listener event is included with the VIP pre-reception dinner reservation.
PRESENTED BY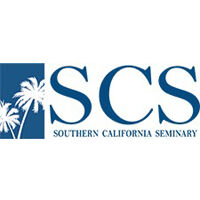 SPONSORED BY
Location:
Shadow Mountain Community Church
2100 Greenfield Drive
El Cajon, CA 92019
Google Map