Hiring Street Team Members!
2:30 PM on Wednesday, March 23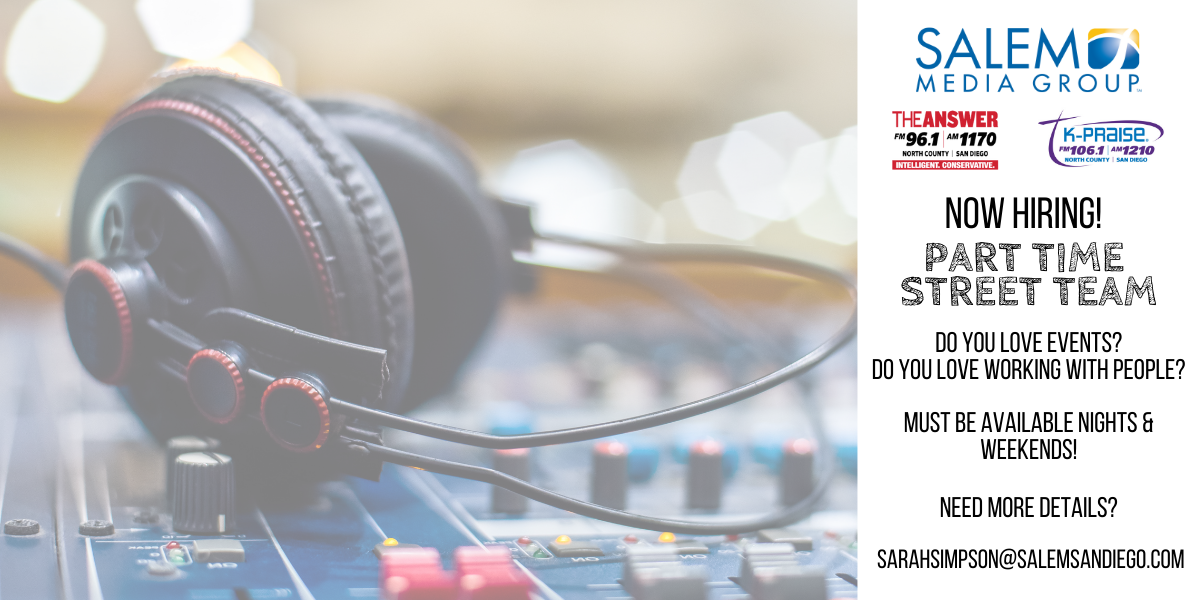 San Diego is open and events are back! Salem San Diego is looking to rebuild its Street Team! We are currently looking for part-time Street Teamers/Promotions.
Our Street Team represent K-Praise (FM106.1/AM1210) and The Answer San Diego(FM96.1/AM1170 KCBQ) as they engage with listeners at key station events, concerts, and various community events around San Diego County.
The Street Team is the right fit for you if you are looking for part-time night and weekend shifts. A flexible schedule is required. Events will fall mostly on weekday nights and weekends, with occasional weekday events. The Street Team is scheduled on an "as needed" basis. Love events, have fun engaging with the local community, and have availability in your schedule, this may be a perfect fit for you! Street Teamer must be outgoing, responsible, dependable, work well in a team environment, and have a valid driver's license with a clean driving record. If you are interested in becoming a part of the Salem San Diego Promotions team, please apply online and upload your resume today!
QUALIFICTIONS
The Street Team Position reports to and works directly with the Promotions Manager of the stations. Responsibilities include working at various station events, concerts, and live broadcasts. Handling the setup and tear down of station events and appearances, interacting with account executives, listeners and on-air personalities, maintaining promotional equipment, driving station vehicles, helping with the execution of station events, on site contesting. Help maintain company vehicles: fuel van for events and remotes, keep clean inside and out.
Other duties as assigned.
Must be able to operate a company vehicle and have a valid driver's license with a clean driving record.
Must be comfortable interacting with listeners at events, outgoing personality is a plus.
Must be able to lift 50 pounds.
Must be able to stand for long periods of time.
Must be able to multi-task and have exceptional organizational skills.
Must be able to work independently
Must have weekend and evening work availability. Weekends and Holidays are required.
Salem Media Group, the nation's largest operator of Conservative Talk, Christian and Inspirational radio stations, radio networks, Christian media and entertainment, Internet aggregators, e-commerce, new media, and streaming. Salem Media Group is an Equal Opportunity Employer.