3 Reasons to Cook Your Thanksgiving Meal as a Family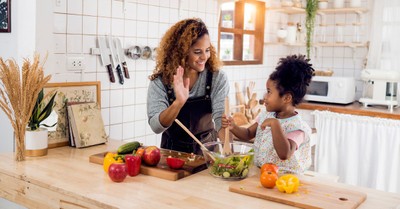 By Katie J. Trent, Crosswalk.com
Thanksgiving is a time for family, friends, and feasting. It's a time where we gather together with grateful hearts and count our blessings. The Thanksgiving feast is a quintessential symbol of family and togetherness. Every family has its own traditions, but often, we find the majority (if not the entire) meal tends to be prepared by Mom.
In our household, my mom's preparations began weeks in advance. She started with grocery shopping, investing hours of time and plenty of finances to prepare everything. Next, she worked on all the delicious pies and side dishes, trying to get as much done ahead of time as possible. Finally, she got up before the sun on Thanksgiving Day in order to prepare the turkey and make all of the other dishes. By the time the meal was over, she was exhausted, and her house was left a wreck.
Even after my brothers and sisters moved out and we all started our own families, our mom continued the tradition of hosting and preparing the Thanksgiving meal for us all. And, though we each brought a dish to add to the feast, the bulk of the work was still done by her alone.
What about your family? How do you prepare your Thanksgiving feast? Do you all work together, or does your mom (or any one member of the family) make most of the meal herself? Can you relate? Are you one of the relatives partaking in the feast or the person trying to do everything by themself? Leave a comment below and let us know!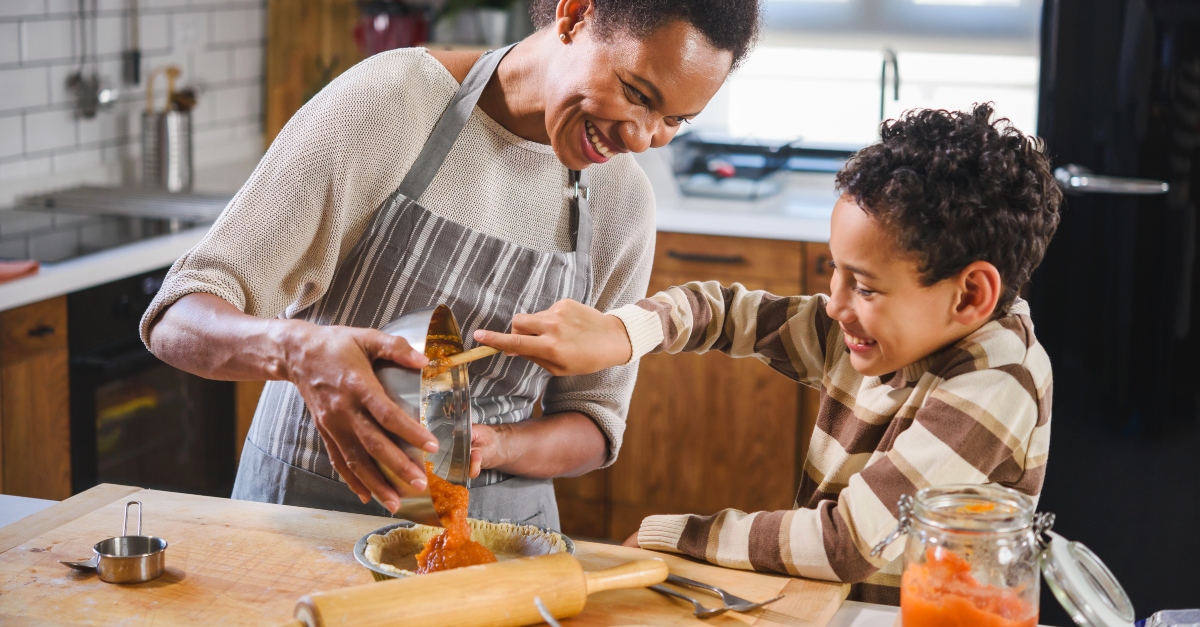 Photo credit: ©Getty Images/Lordn
Start a New Tradition
This year, I want to encourage you to start a new tradition. Instead of letting mom do all the work herself, make it a family affair. Bring everyone together to help out and make the Thanksgiving meal together.
I'm sure we can all come up with several justifications why NOT to make the meal together. I used to avoid the kitchen at my in-laws' house, feeling like it was too small and I didn't really know how to help. In such a small space, I thought it better to be out of the way. I happen to be a terrible cook myself, so I used that as an excuse as well. But in reality, it was a bit awkward and uncomfortable. I didn't enjoy trying to make small talk or maneuver around everyone in an unfamiliar kitchen. Maybe in your family, mom is particular in how she likes things done, and you want to stay out of the way? Or perhaps, it's that mom has always done it herself, so it's simply become a part of the family tradition.
Regardless of why mom has typically been left to make the meal herself, I want to challenge you to start a new tradition this year. I'd love to share three powerful reasons to cook your Thanksgiving meal together this year. We all know that Thanksgiving is a time to spend with your loved ones, and one of the best ways to do that is by cooking the dinner together. It's an incredible opportunity to bond over a shared activity and will make for some fantastic family memories. Plus, it'll give mom a chance to relax and let you spend some quality time together.
3 Reasons To Cook Your Thanksgiving Meal Together
1. It lightens the load.
You've likely heard the saying; many hands make light work, and it is certainly true with the Thanksgiving feast. When you cook the meal together, you lighten the load financially, mentally, emotionally, and physically. There is a lot of pressure associated with preparing a Thanksgiving feast. It is like an elaborately choreographed dance with all of the moving parts and planning required to make everything and to have it ready and warm at the right time. But we are called to help each other out and support each other, and Thanksgiving provides a wonderful opportunity to work together for the common good. "Bear one another's burdens, and so fulfill the law of Christ." – Galatians 6:2 NKJV
2. It strengthens family relationships.
There is something powerful about preparing a meal together. It provides an opportunity for conversation and connection unlike anything else. By helping your mom out this holiday season, you are communicating your love, value, and appreciation for her while also investing in your relationship. The time spent together in the kitchen allows your mom to pass down favorite family recipes and stories of the past. You can learn a lot about your family history as you work together. Of course, your mom will appreciate all of your assistance, but she will forever treasure the quality time you spent working alongside one another to prepare the Thanksgiving meal.
Jesus and the disciples modeled for us the value of breaking bread together. We gain so much when we share life over a meal. We frequently hear it emphasized that we should have family dinner together around the table but forget to mention the power of preparing the meal alongside one another. "They devoted themselves to the apostles' teaching and to fellowship, to the breaking of bread and to prayer." – Acts 2:42 NIV
3. It creates meaningful memories.
When I reflect on my childhood, many of my fondest memories center around the kitchen. I can still smell the yeast of the rolls my mom prepared every year and the sweet treats she baked. I remember her letting me help—and sneaking a bite of the dough or getting to lick the beaters. As a young adult, I fondly recall the stories shared by my husband's grandma as we worked together to prepare our Thanksgiving meal. I can still picture setting her dining table and gathering around to share the feast.
Even in years where we haven't been able to get together as a family, I have taken those beautiful memories into the holiday season with us. And though Grandma passed away several years ago, we still have those precious moments we created during the holidays and have been able to create new memories with our own children. Now, we often share our favorite family dishes as we converse about some of those meaningful moments from our holiday meals. "The memory of the righteous is a blessing…" Proverbs 10:7a ESV
I pray this year you can slow down and create beautiful memories in the kitchen as you work together to prepare your own Thanksgiving feast as a family. While it's not always possible, it can be a fun way to add creativity and togetherness during the holiday centered around loved ones. Be sure to leave a comment through Facebook below and share how your family prepares their holiday meal.
Photo credit: ©Getty Images/ Thana Prasongsin
Katie J Trent is the author of the book, Dishing Up Devotions: 36 Faith-Building Activities for Homeschooling Families (Whitaker House). She is also a popular blogger, speaker, homeschool mama, and a Pinterest drop-out with a messy house and happy kids—most of the time. Katie lives in Arizona with her husband James and their two children. For more resources to grow your faith, strengthen your family, and simplify your homeschool, visit KatieJTrent.com. Connect with Katie on Instagram @KatieJTrent.