How to Find Biblical Joy When You Battle Anxiety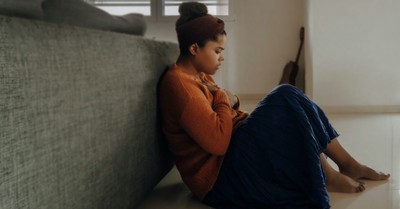 By Gina Smith, Crosswalk.com
"If I peer anxiously into the fog of the future, I will strain my spiritual eyes so that I will not see clearly what is required of me now." Elisabeth Elliot
Anxiety. If you are human, you have felt anxiety in some way! You may be facing a season of trial, peering into a future of unknowns, or feeling as if your life has spun out of control. All of this can contribute to a person experiencing anxiety. Or maybe you have experienced a different kind of anxiety – intense anxiety that doesn't just go away when you direct your thoughts elsewhere. It could be that you have experienced some loss or trauma that has triggered something in your body, and you deal with a deeper level of anxiety on a regular basis.
I have experienced both kinds of anxiety – the kind that can be calmed by redirecting my thoughts and the kind that affects me physically, even when I redirect my thoughts. Both are difficult to navigate, and both happen because we live in a sin-cursed world, and our minds and bodies are altered because of that sin.
Verses about Anxiety in the Bible
"Do not be anxious about anything, but in every situation, by prayer and petition, with thanksgiving, present your requests to God." (Philippians 4)
We can go to God with our anxiety, no matter what level we are experiencing, and offer it up to Him. Even if the 'feeling' of anxiety doesn't go away, we can still offer it to him and walk in faith. If you experience the kind of anxiety that is based on more than immediate circumstances – more of an overwhelming physical anxiety - He can help you with that. He will lead you to the right source for help to calm whatever is physically happening in your body so that you can think clearly emotionally.
"Humble yourselves, therefore, under God's mighty hand, that he may lift you up in due time. Cast all your anxiety on him because he cares for you." (1 Peter 5:6-7)
Again, all our anxiety can be heaped onto his great, strong, almighty shoulders. He is God. He can take it all and walk you through it. He cares for you. He will direct you, one step at a time, to a place of peace.
"I can do all things through him who gives me strength. Yet it was good of you to share in my troubles." (Philippians 4:13-14)
We can face our anxiety and even conquer it with the help and strength of God. Whether it is the kind of anxiety that goes away with redirecting your thoughts to God and His promises or the type of anxiety that you wake up with and you can't put your finger on why you even feel that way. He is able to help you get to a place of peace. He can direct you to the right place, whether it is a passage in the Word or a person who can help strengthen you spiritually or physically; He is able to see what you need and strengthen you as only He can.
What Good Comes From Battling Anxiety?
Anxiety is the way your body or mind tries to get your attention. It can be used for good if it points out an area where you need to lean on God and direct your attention to Him instead of a difficult circumstance you are facing. It can be used to help you see that there is something you need to deal with by going to a pastor or counselor. Anxiety can indicate that we need to notice or care for something in our lives. God knows exactly what you need in order to get past the type of anxiety you might be experiencing.
Whenever you suffer in some way, you automatically gain the ability to understand that suffering when another person goes through it. Anxiety is a form of suffering that we, as weak human beings, will experience in one way or another. If you allow it to, your experience with anxiety can make you a more empathetic person and able to be used by God to help others when they face anxiety. I am so thankful for how God has used anxiety in my life, especially how he has allowed me to come alongside others. God has connected me with people who experience a similar type of anxiety that I have experienced. Because of that, I have been able to help them find relief. I love that!
When we look to God for help in our anxiety and get on the other side of it, we exercise our spiritual muscles. We have learned what it takes to get through the overwhelming feeling of anxiety, and we are more prepared for what we might face in the coming days. I have been motivated to study the Word more so that I know what promises to cling to when I feel overwhelmed with anxiety, but I also feel more equipped to understand where to go for help when I experience the physical, debilitating anxiety that sometimes comes over me. I feel ready to face both types of anxiety because I've gone through it and been led by God to the other side.
Find Biblical Joy When Battling Anxiety by Focusing on God
Thank Him for Who He Is: Father, thank you for being Yahweh-Shalom–The Lord Our Peace. There is no feeling that we face, whether it be fear, being overwhelmed, or anxiety, that you cannot walk us through and give us peace. You can direct us to your Word that we can cling to, and that will calm us when we have anxiety about our circumstances. You are able to direct us to the help we need if we experience a physical or chemical problem in our body or mind that causes us to experience anxiety. You are our Peace.
Thank Him for His Faithfulness: Father, thank you for being faithful. You have walked me through so many seasons of anxiety in the past, and I know you will be there for me when I need you to walk me through it again. I know I can count on you. I am so grateful!
Thank Him for His Promises: Father, thank you for your promises that tell me you will never leave me, that you are always present, that you see all of my suffering, and that you walk with me through all that I face. Thank you that I can cling to those promises and that they give me hope and peace.
Thank Him for His Provisions: Father, that you for your provision that has helped me get through, and deal with, seasons of anxiety. Thank you for your Word that comforts me, your people who come alongside me and help to bear my burdens, and for counselors and doctors that you have equipped to help with the more complicated suffering in this life. You are so good to us. You are the Lord our Peace.
This article is part of a series by Gina Smith on biblical joy. Here are more of her articles:
How to Find Biblical Joy When You Battle Depression
Finding Biblical Joy in Loneliness
How to Find Biblical Joy When the Church Disappoints You
How to Find Biblical Joy When Life Doesn't Look the Way You Thought it Would
Photo credit: ©Unsplash/Joice Kelly
Gina Smith
is a writer and author. She has been married for 35 years to Brian, a college professor and athletic trainer. For 25+ years, she and her husband served on a Christian college campus as the on-campus parents, where Brian was a professor and dean of students. They reside right outside of Washington, DC, and are the parents of two grown children, one daughter-in-law, one son-in-law, and one granddaughter. She recently authored her first traditionally published book, Everyday Prayers for Joy, which is available everywhere books are sold. You can find Gina at the following: Website:
ginalsmith.com
, Instagram, and at Million Praying Moms, where she is a writer.
Related podcast:
The views and opinions expressed in this podcast are those of the speakers and do not necessarily reflect the views or positions of Salem Web Network and Salem Media Group.
Related video:
Thumbnail courtesy of Canva.com Stock footage courtesy of soundstripe.com