35 Fall Activities to Do with Your Grandkids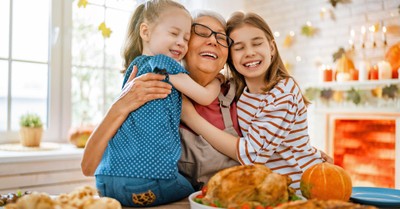 By Carrie Lowrance, Crosswalk.com
Fall is a great time of year to do things with your grandkids. The weather is cooler and more comfortable, and there are all kinds of special things to do this time of year. Watching the wonder on their faces is also fun as they hunt for the perfect pumpkin or eye that delicious caramel apple treat. If you have a date planned soon, here are some activities you can do outdoors, things to go see indoors, and activities to do when the rainy fall chill rolls in and your plans have to change.
Photo Credit: ©iStock/Getty Images Plus/Choreograph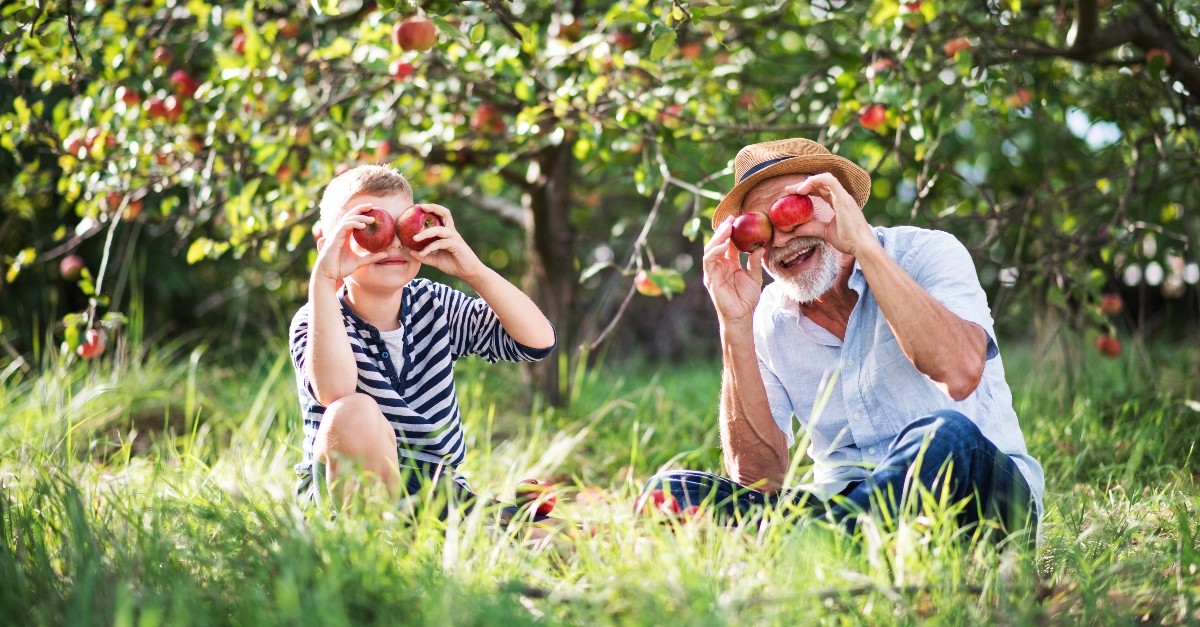 Outdoor Activities
1. Go to the Pumpkin Patch
Take them to the pumpkin patch and let them pick out their own pumpkin. It's always fun to see what size they will pick out. You may even want to pick one out to carve later, use for pumpkin pie, or roast pumpkin seeds.
2. Corn Maze
Older kids will enjoy running through a corn maze and trying to find their way out.
3. Apple Orchard
Spending time at the apple orchard is always fun. Kids can learn about different apples and what we use them for. You can bond over picking apples and having conversations with them. The orchard is also great for apple cider and apple cider donuts. Yum!
4. Visit the Farm
A trip to the farm or dairy is another great fall activity. Kids can learn about different animals, what farmers do, and the crops they grow. If you go to a dairy, they can learn about where dairy products come from, sample some yummy homemade cheese, or try milking a cow.
5. Go to the Zoo
The Zoo is another great option where kids can learn about different animals.
Walking through and seeing all kinds of animals you wouldn't see in everyday life is fun.
6. Go for a Walk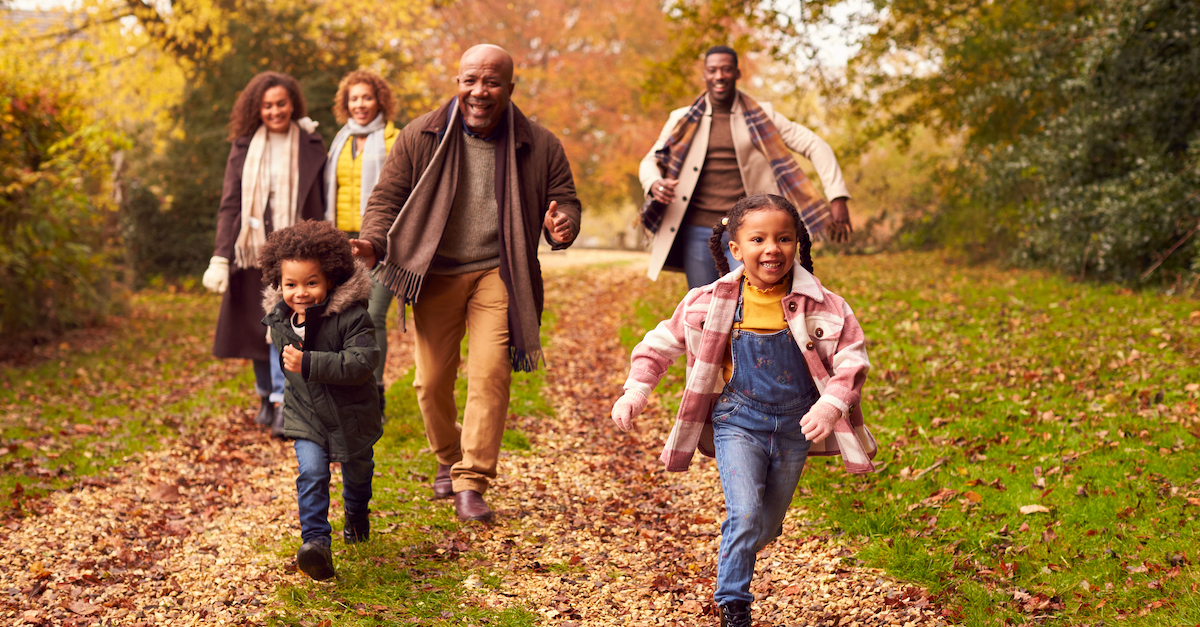 Photo credit: ©GettyImages/monkeybusinessimages
Going for a walk is a great way to get out into nature and enjoy the seasonal sights God blesses us with—everything from colorful leaves to fall decorations on people's houses.
7. Look at the Leaves
When we lived in Illinois, there were three specific roads we took a drive on every year to look at the leaves. These streets were full of fall foliage and were beautiful. You can admire the leaves in your backyard, your neighborhood, or in a neighborhood across town.
8. Leaf Piles
A childhood favorite of most children is jumping into piles of leaves, so rake those piles high and let them go to town.
9. Hay Ride
A hay ride is a nice, peaceful way to enjoy an afternoon.
10. Campfire
Build a campfire in the backyard and enjoy your favorite campfire fare. This is the perfect time to connect with your grandchildren in a more relaxed atmosphere and learn more about them.
11. Visit the Farmer's Market
Farmer's Markets are another fantastic activity. You can introduce your grands to farm fresh produce, meats, and other goodies like homemade candies or baked goods. They will see some fruits and vegetables they have never heard of as well. The last time we went to our farmers' market was the first time I ever saw peaches and cream corn. It's corn with both white and yellow kernels on it.
12. Go to the Playground
Take the kids to their favorite playground, or do some research and find a park with a playground near you. This is a great way to help them get their energy out and give them a new play atmosphere to thrive in.
Photo credit: © Getty Images/Halfpoint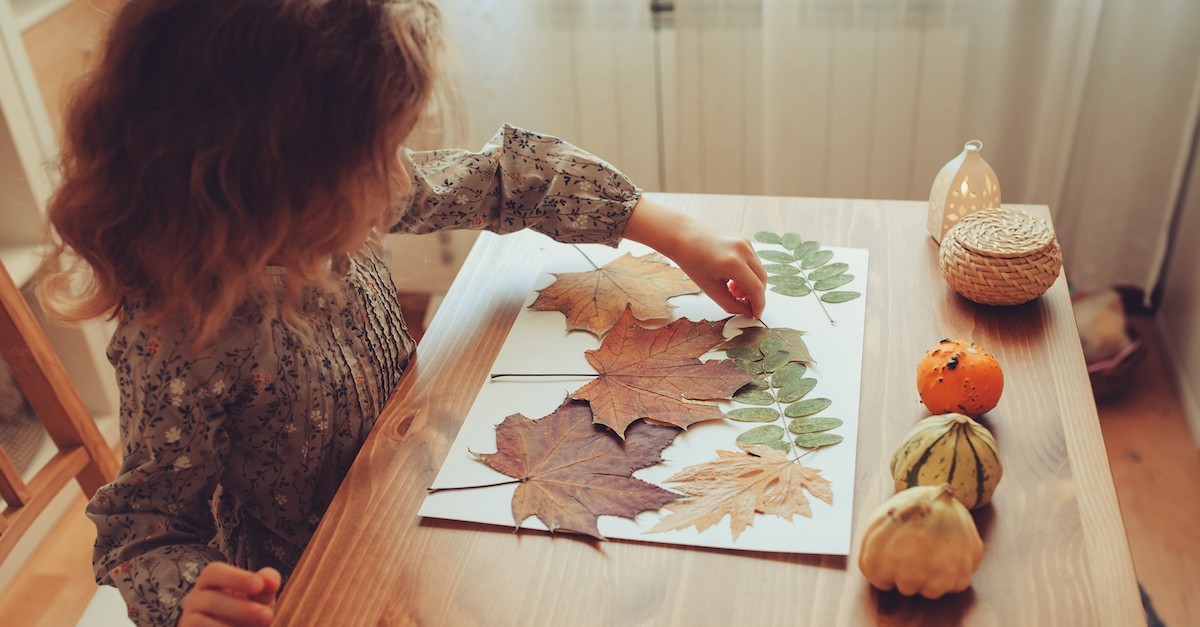 Activities for Rainy Days
If you can, I recommend having a craft box on hand for rainy days. You can put things like construction paper, card stock, glue sticks, glitter, markers, crayons, etc in it. I would also add things like paint, shaving cream, and paintbrushes. This way, you won't be stuck without the supplies to do art on a dreary day.
One more thing I recommend is a pattern book. As a former daycare teacher, I used pattern books even for crafts sometimes. The company that produces them is called The Mailbox Books, and you can find them on Amazon, Thriftbooks, and Book Outlet. I have used this pattern book for years and love it.
13. Crockpot Apple Cider
Look up a recipe for crockpot apple cider. Depending on your grandchild's age, either get the ingredients together and let them dump them in or let them help with the ingredients if they are older. Making cider in the crockpot is easier, and you don't have to worry about them being around the stove.
14. Make Homemade Playdough
You can find recipes for homemade playdough all over the internet. For an extra fun twist, find a recipe for edible playdough. I've seen recipes for apple cinnamon and pumpkin edible playdough.
15. Trees with Leaves Craft
This is where the pattern book comes in. In it, you will find a pattern of a tree without leaves. Make a copy and let the kids color it brown, and then let them dip their fingertips into red, yellow, and orange paint and add "leaves" to the tree.
16. Back to School Apples
Copy the apple pattern on a piece of white cardstock and let the kids color them either green, yellow, or red. Then, paint glue on them and add either red, yellow, or green glitter.
17. Movie Day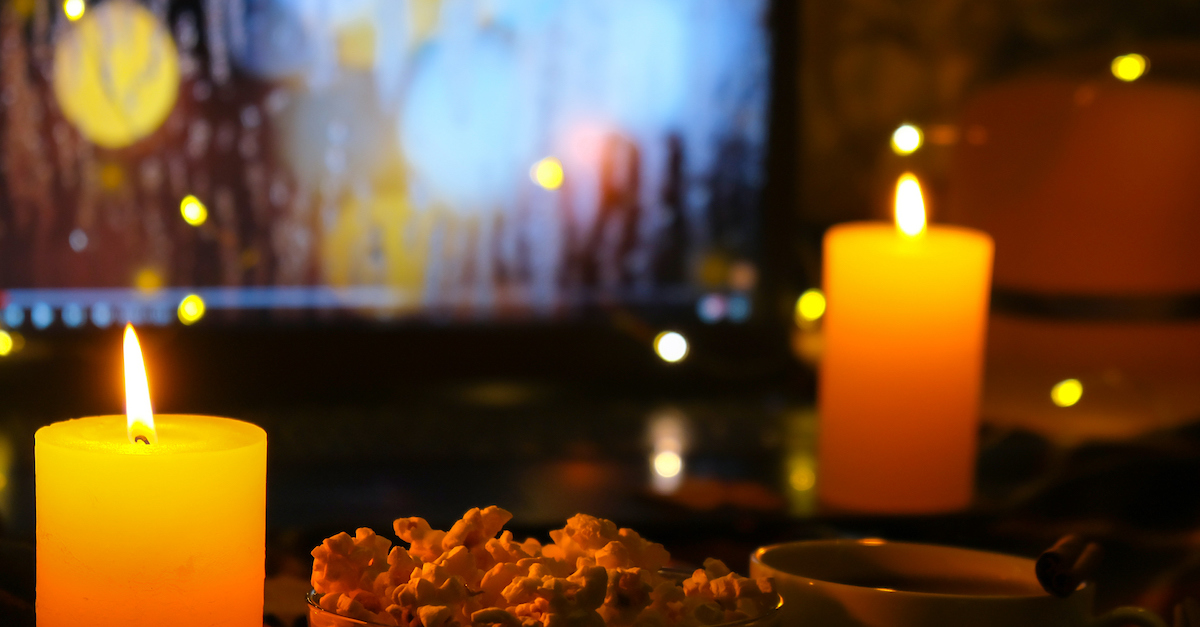 Photo credit: ©GettyImages/Anastasiia Yanishevska
Spend the day curled up in the blankets with snacks and beverages. Let your grandkids pick out what movies they want to see with guidelines, and enjoy a relaxing day.
18. Make a Blanket Fort
Make a blanket fort in the living room and have fun.
19. Bake Together
Fall is a great time to bake. Choose a yummy fall treat like apple muffins, pumpkin bread, or cinnamon donuts. Get out your ingredients and spend some time enjoying each other's company. It will fill your house with the warm scent of delicious fall flavors and your warm love for each other.
20. Leaf Craft
Go out and pick some leaves. When you come back, set your iron low and put the leaves between two pieces of wax paper. Make sure they aren't touching. Then iron the leaves until the wax melts and they are sealed between the wax paper. Cut into a rectangle or square and add a paper frame around it.
21. Marble Paintings
For this activity, you will need a shoe box and paper cut to fit inside the shoe box. You will also need marbles, plastic cups and spoons, and different colors of paint.
First, cut the paper to fit the bottom of the shoe box. Second, fill the cups half full with paint. Add one or two marbles to each cup. Have your grandchild dig the marbles out with a spoon and drop them into the shoebox. Then, roll the marbles around in the box to do the "painting." Repeat with different colors.
22. Read Together
Curl up on the couch under the blankets and read to your grandkids. If they are older and can read themselves, then have a silent reading marathon together.
23. Make Homemade Finger Paint
Look up a recipe for homemade finger paint and let them have a ball.
24. Put a Puzzle Together
Spend some time working on that huge 1000-piece jigsaw puzzle you have been assembling.
25. Campfire on a Plate
Put a decent-sized dollop of white icing in the middle of a six-inch paper plate. Then take thin stick pretzels, set them on end on the plate, and lean into the icing and crisscross them for logs. Next, add a red candy to the icing on the inside to make the fire.
26. Play Board Games
Break out the old board games for some friendly competition or just for fun.
27. Cook Together
Teach your older grandchildren how to cook. Choose a meal you both love and make it together. There is nothing like food to bring people closer.
Photo credit: ©GettyImages/Mkovalevskaya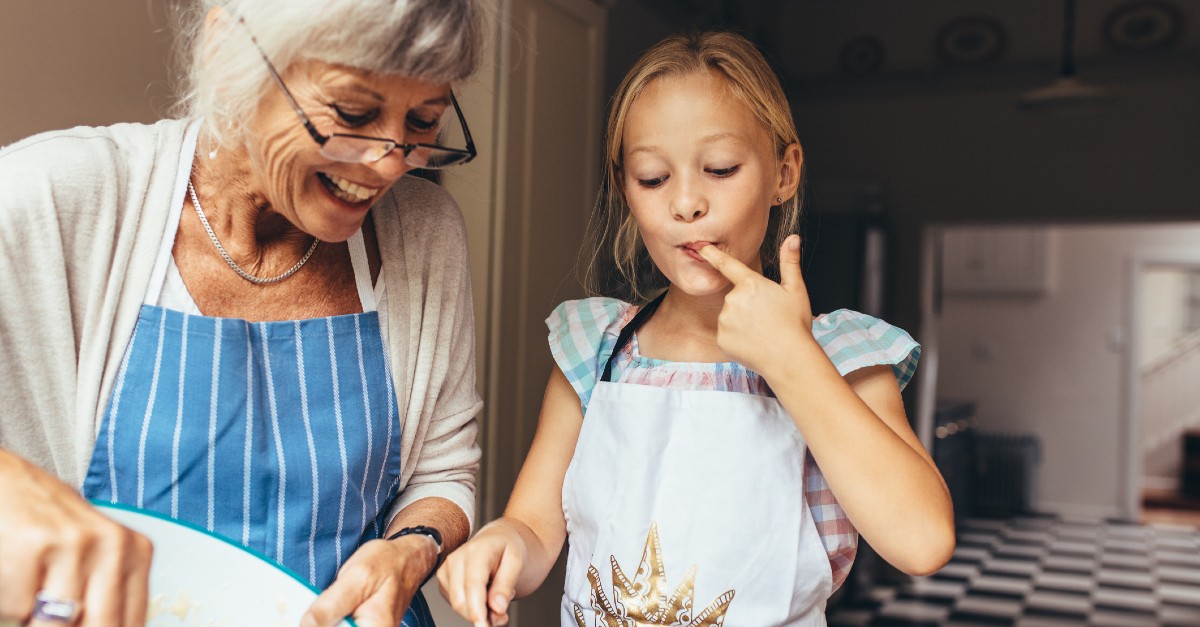 Indoor Activities
28. Go to the Library
The library is a treasure trove. You can find books, movies, music to borrow, and magazines. They also hold classes and have special book clubs that meet. Love a specific genre or book? Join a book club together. Want to learn something new? See what classes they offer. The best part? It's all free.
29. Go to the Children's Museum
Take them to a museum just for them, and enjoy watching them explore.
30. Decorate for Fall
Let them help you decorate your house and front porch for fall.
31. Make Caramel Apples
Get some apples and make caramel apples together.
32. Have an Apple Tasting
Go to the apple orchard and buy two or three different apples. Then, have them guess which kind is which and the use of each apple. We use different apples for all kinds of things, from eating to baking to cooking.
33. Have a Fall-Themed Picnic
Make some fall-themed food and have a picnic in your living room.
34. Make Apple Prints
Cut an apple in half, dip it in paint, and make apple prints.
35. Make Candy Apples
Instead of the traditional caramel apple, look up a recipe for the classic red candy apple treat.
Photo credit: ©GettyImages/jacoblund