8 Things Parents Can Learn From a Survivor of Teen Suicide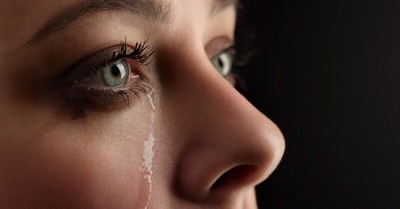 By Catherine Segars, Crosswalk.com
Did you know that 20 young people take their own lives every day in the United States?
I recently sat down with one such teen on CHRISTIAN PARENT/CRAZY WORLD, a podcast that tackles tough topics for parents from a biblical worldview. Emma Benoit had a picture-perfect life. She was a vibrant, beautiful 16-year-old varsity cheerleader whose secret battle with anxiety led her to take a gun, point it at her chest, and pull the trigger. Only 1% of people with self-inflicted gunshot wounds survive. Emma is in that 1%. She is an absolute miracle and an inspiration.
You can hear our powerful conversation in episode 49 and episode 50 of CPCW. Jennifer Ellers, a Christian counselor, crisis responder, and trainer, joins us. Jennifer has authored a course on youth suicide and is an instructor of the American Association of Christian Counselors' Hope-Focused 3-R Suicide Program. This article includes highlights and key takeaways from that conversation.
The statistics on youth suicide are shocking.
According to the American Foundation for Suicide Prevention, a 2019 study showed that 8.9 percent of youth in grades 9-12 reported making at least one suicide attempt in the past 12 months. Female students attempted almost twice as often as male students.
There has been a 33% increase in suicides since 1999.
Suicide is the 2nd leading cause of death in young people.
Parents, pastors, teachers, and caregivers—If we aren't aware of this rising threat in the next generation, we need to be.
Suicide is a growing trend among the very young.
We also need to recognize the growing number of suicides in children under the age of twelve. Jennifer has a burden to enlighten parents about this alarming trend in the very young:
"What we're seeing, especially in the last 10 to 15 years, is that age [where children are suicidal] is getting younger and younger. And that's something that I want to make parents aware of because if you are sitting there with 6, 7, [and] 8-year-olds thinking that this is not relevant for a few years, I wish that was true. And when I was in graduate school, and I was going through my education, that was true."
It isn't true anymore. Suicide is now the 8th leading cause of death in children between the ages of 5 and 11.
Ellers confirmed this fact: "What we're seeing is a huge increase in suicidalities, suicide attempts, and even, tragically, completed suicides in children ages 6 to 12." We're also seeing an increase of children going to doctors and the hospital with mental health-related concerns in that age group.
Parents must understand today that if you have a school-age child, you have a child at risk for suicide.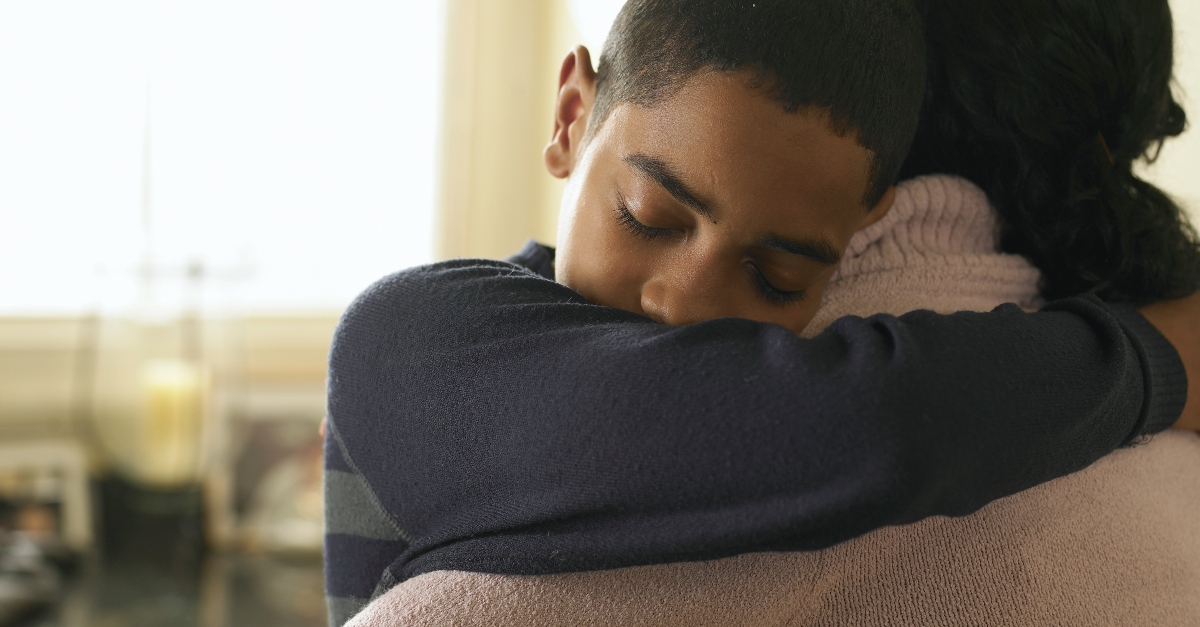 Photo credit: © Getty Images/John Howard
1. With young children, suicide is a very impulsive act.
The most alarming aspect of suicide in young children is its impulsivity.
Ellers pressed this point emphatically: "That's one of the things that I really want parents or any caregivers to realize—that most adults will take much longer to think through, plan, [and] process before they take action. But the younger you are, the more impulsive this can be. I believe that something like half of them have a crisis within the 24 to 48 hours prior to the attempt… [and] I think something like around 25%, literally less than 5 minutes had elapsed between the time that they decided they were going to take their life and actually doing it."
Five minutes may separate life from death in a young child's life. These statistics come from studies of those who had near-fatal suicide attempts. Young children have deep feelings that they don't know how to process, so they can react rashly. And permanently.
2. For many children, suicide seems like the only option.
Emma had been considering suicide for months, but the final attempt was very impulsive. Emma lifted the veil of that battle in our interview:
"I had been struggling with those types of intrusive thoughts about a month or two before the actual attempt happened. And when those intrusive thoughts would hit the forefront of my brain, it was the only thing I could think about, the only thing I could see. It was the only option. And it sounded like the smartest option to me mentally in that time."
What is so clear from Emma and others who survive suicide attempts is that there is a seductive nature to this act. There is an intense, relentless pressure to end one's life. But almost immediately after the attempt, a person feels regret.
"It was 100% an impulsive decision because immediately, I would even say milliseconds after it happened, I experienced instant regret. And I knew that I had just made a mistake, and that I didn't want to die," Emma admitted.
(To hear more about the spiritual side of suicide which manifests as a seductive lure, listen to episode 50 of CPCW.)
3. What signs should we be looking for in younger kids?
Signs will vary depending on the age of the child, but Jennifer says that in younger children, we should ask:
-Is something different about them?
-Has something changed for them?
-Are they eating and sleeping well?
-How are they doing in school? How are their grades?
-Is there a personality shift or change?
A variation in these routines may be completely normal, but it could also be a first indicator. If you see any of these signs, then consider the following:
-Do they not want to go to school for some reason?
-Have they been engaged in an activity that they used to enjoy, and suddenly they don't want to do it anymore?
The important thing is to ask questions. Sometimes changes are normal. Kids often lose interest in a new hobby—not every kid sticks with the tuba or twirls a baton into adulthood. Such changes may just be shifting interests, but multiple signs may indicate a more serious issue connected to a social problem, anxiety, or depression.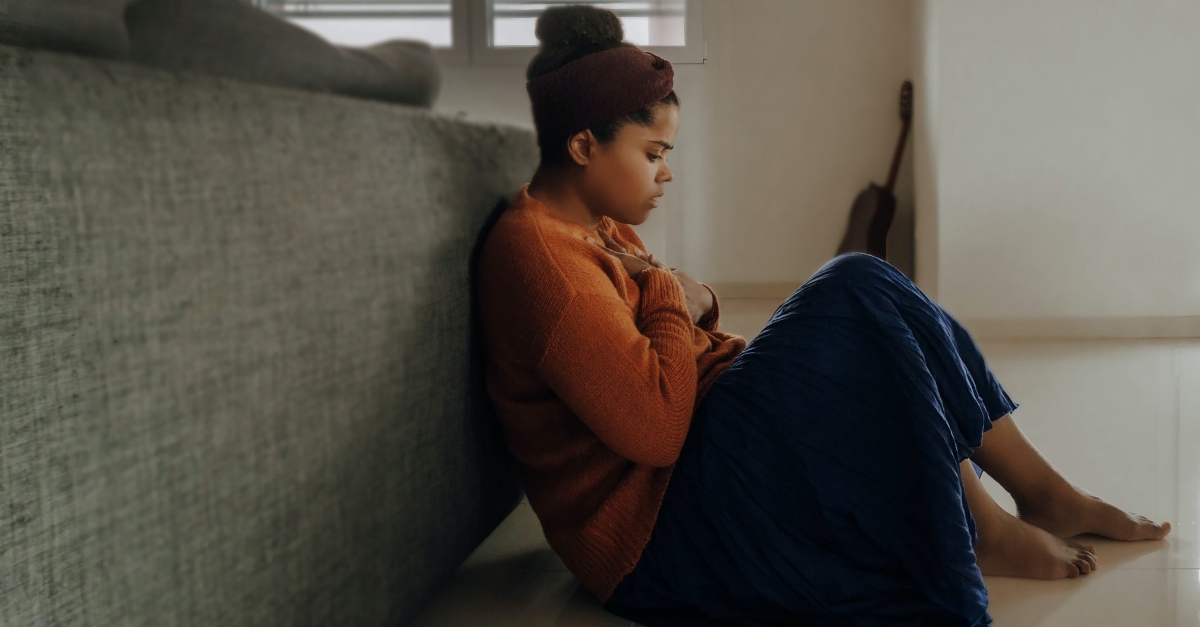 Photo credit: ©Unsplash/Joice Kelly
4. What signs should we be looking for in older kids?
All of the concerning indicators for younger children carry over into the tween and teen years, but we should also look for the following:
Withdrawal from family and friends.
Substance use or abuse.
Self-harm (cutting or non-suicidal self-injury).
Any of these signs should raise a red flag for parents and caregivers. But children often struggle silently, and the first indication that something is wrong occurs when a child actually tries to take their life. This was the case with Emma.
5. Children will mask the signs.
Parents must realize that children will hide these indicators, especially as they get older.
Jennifer spoke to this chilling reality: "The hardest part of this is that we're looking for signs… but the truth is some parents won't see the signs because, like Emma, a lot of kids are masking it. And they're doing a really good job at pretending to be fine and specifically not just not telling their parents, but actually hiding it from friends and family."
Shame causes children to hide what they are really feeling. Emma confirmed this fact. "I felt shame. There's no reason that I have to feel anxious and insecure. I felt guilty. I don't have a right to feel this way. Because of that, I protected myself from it. I put a mask up."
That is why it is critical that parents do more than just look for signs. They need to have an ongoing conversation with their kids about their emotional health, even if they think everything is fine.
6. What parents should be asking.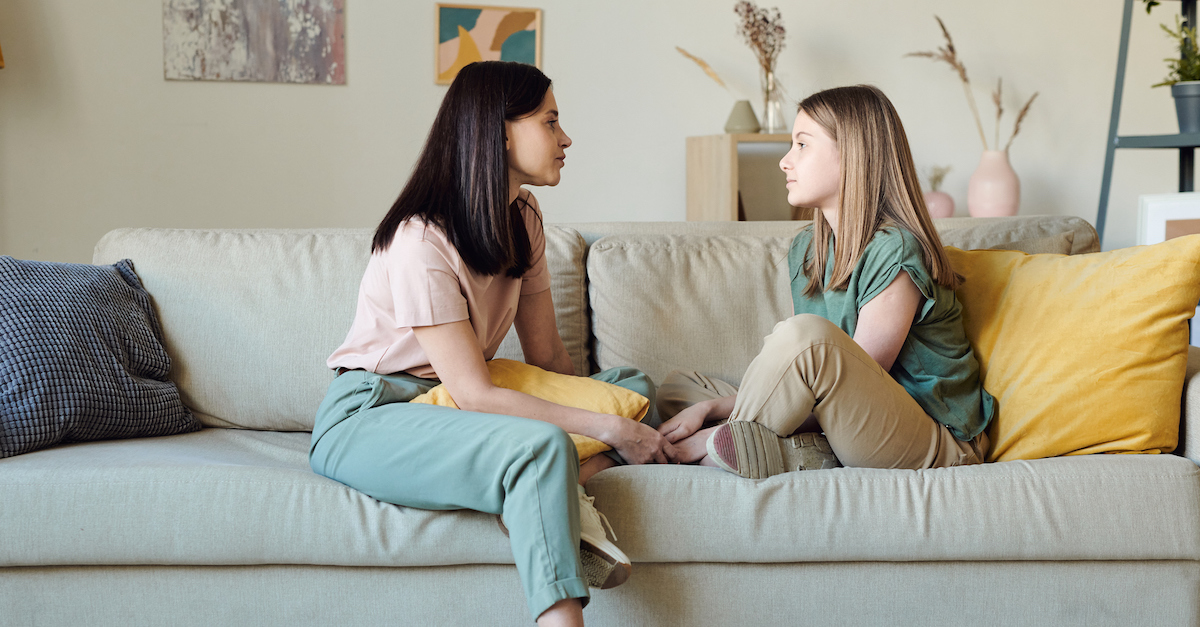 Photo credit: ©GettyImages/shironosov
Children are good at discussing physical pain, but they aren't good at discussing emotional pain. We must inquire about our kids' mental health. Regularly.
"I hear a lot, certainly in mental health fields, [about] this term of emotional intelligence. And what that really means is that from a young age, from little kids, we need to encourage them to talk about their feelings, be able to identify the feelings that they're feeling, and then put language to it and normalize it," Jennifer advised.
Emma wholeheartedly agrees. She suggests asking, "How was your mental health today?" or "Did you have any big feelings that you want to talk about?" in addition to the usual, "What did you learn?" and "How was school?"
Jennifer offered some other key questions to ask:
"Have you felt down or depressed?"
"Have you had bad days, and what does that look like for you?"
"Do you get anxious? Do you get nervous about things?"
"Do things upset and keep you up at night?
"Do thoughts go through your head and get stuck?"
And make sure that your child knows that your inquiries don't come with any expectation of a positive response. Your child must feel safe to share their true feelings with you.
These questions are a good place to start but don't stop there. At some point, have a serious heart-to-heart with your child. Ask them—point blank—if they have ever thought about ending their life.
That would have made a huge difference for Emma. "I think that if someone would have asked me, 'Are you having thoughts of suicide?' [or] 'Have you ever had a thought of harming yourself?' that I would have certainly opened up about it… It would have made it ten times more real, and it would have prevented me from making the decision," she admitted.
You will never regret asking if your child has contemplated suicide, but you may regret not asking that question.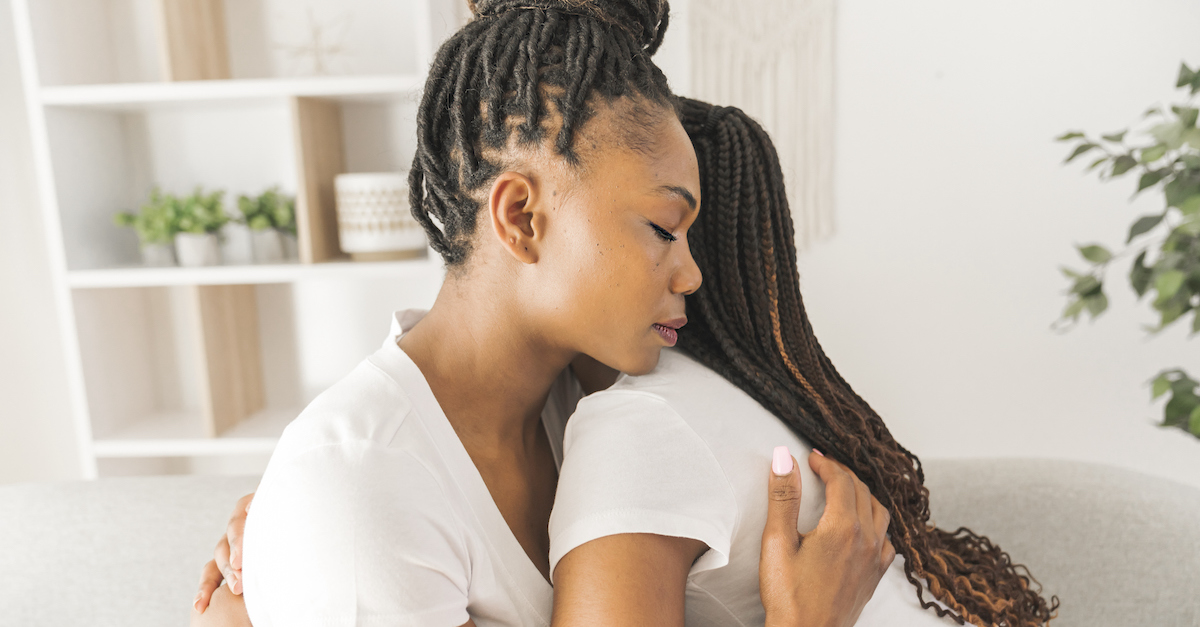 Photo credit: ©GettyImages/LSOphoto
7. What can a parent do if a child struggles with mental illness?
We can offer soothing solutions. We can encourage them to:
-Talk to trusted friends.
-Listen to music.
-Pray.
-Share their concerns with us.
-Spend time with friends and family.
-Read Scripture.
-Speak with a counselor.
As someone who battled crippling anxiety and depression for 17 years, I understand this pain intimately. The Bible is our most significant source of hope and peace in our battle with mental illness. If you or your child struggles with depression or anxiety, I have put together a list of Scriptures that you can use in prayer as a free resource for subscribing to my website.
However, if a child shows signs of being suicidal, you must take more serious steps. You must:
-Contact a mental health professional immediately.
-Take away lethal means (guns & medication).
-Monitor them closely.
-Contact the suicide hotline: text or call 866.
8. What should we tell someone who wants to end their life?
The best words I can offer for someone contemplating suicide are from someone who tried to end her life and, miraculously, did not succeed.
"Do not let go just yet," says Emma. "It's not over yet. It's okay to feel that way. There's nothing wrong with you because you want to die. I know if someone would have told me that… I feel like [it] would have made a huge difference."
To hear the full conversation where Emma share's her powerful testimony, and we fully discuss the spiritual, physical, and mental aspects of suicide, the signs we should be looking for, and the questions we should be asking our kids to promote positive mental health, tune in to episode 49 and episode 50 of CHRISTIAN PARENT/CRAZY WORLD.
Also, see "What I Wish People Knew about Mental Illness" and "What I Wish People with Mental Illness Knew" for further insight and encouragement.
Photo credit: ©Getty Images/Chepko
---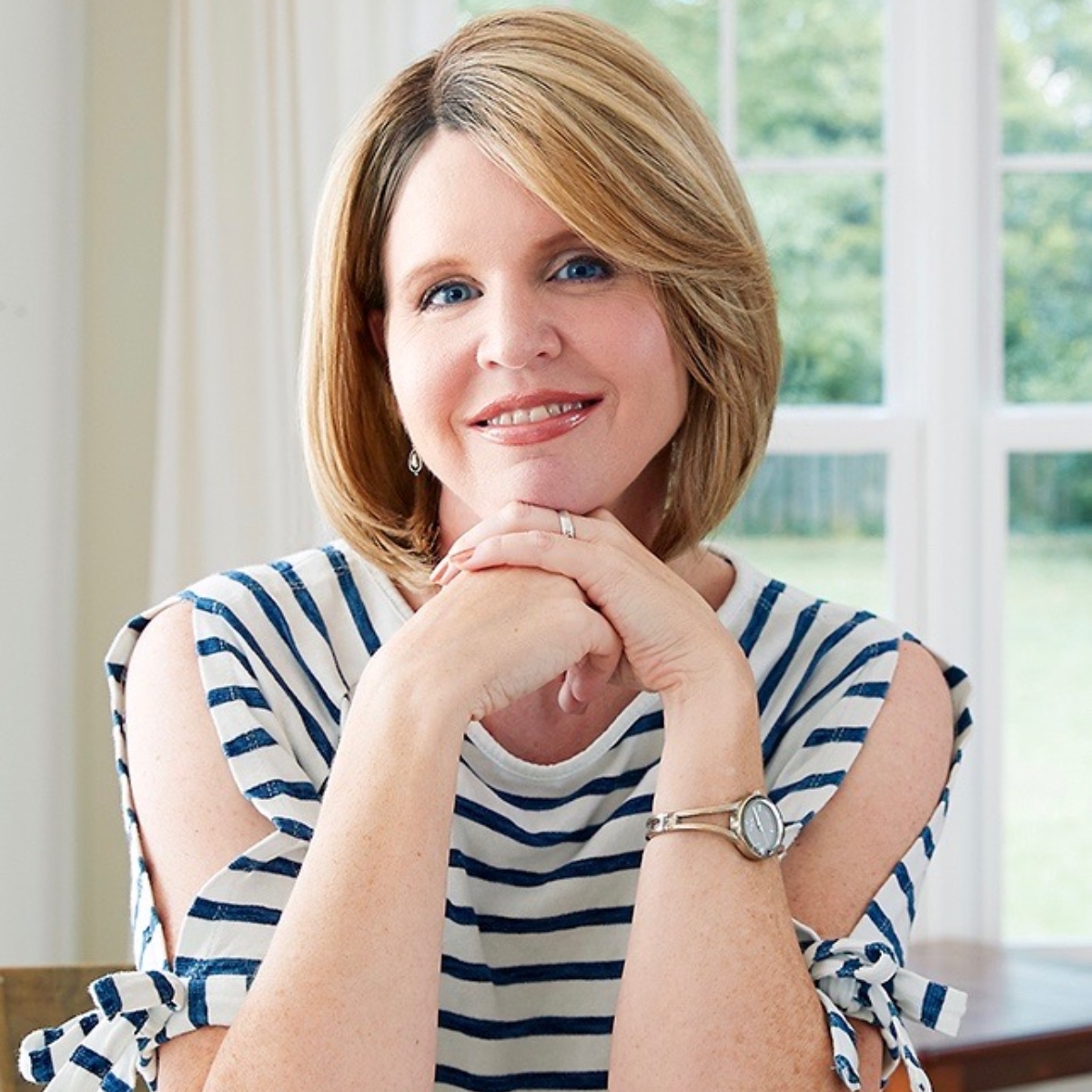 Catherine Segars is an award-winning actress and playwright—turned stay-at-home-mom—turned author, speaker, podcaster, and motherhood apologist. This homeschooling mama of five has a Master's Degree in Communications and is host of Life Audio's Christian Parent/Crazy World (named 2022 Best Kid's and Family Podcast by Spark Media), a podcast that navigates through tough cultural and theological topics to help parents establish a sound Biblical foundation for their children. She is also an award-winning writer whose regular articles on family, faith, and culture reach hundreds of thousands of readers. You can find Catherine's work at www.catherinesegars.com.
Listen to Catherine's FREE Christian Apologetics Podcast for Parents - Christian Parent, Crazy World, available now at LifeAudio.com!

Parents: Need Help Navigating Our Crazy Culture with Your Kids? Listen to Our FREE Parenting Podcast!
Christian Parent/Crazy World with Catherine Segars is available wherever you listen to podcasts. Listen to our episode on battling for your kids in prayer by clicking the play button below:
The views and opinions expressed in this podcast are those of the speakers and do not necessarily reflect the views or positions of Salem Web Network and Salem Media Group.
Related video:
Are you in the trenches with your toddlers or teens? Read Rhonda's full article here!