What Does the Bible Say about the Value of Grandparents?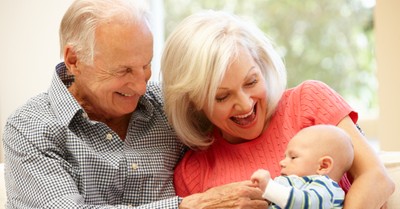 By Stacey Monaco, Crosswalk.com
"The greatest legacy one can pass on to one's grandchildren is not money or other material things accumulated in one's life, but rather a legacy of character and faith." Billy Graham
Society has changed greatly since the days that Jesus worked at the knee of his father, learning the skills of carpentry. The family unit often consisted of several generations nestled together in the family home, living together, working together, and eating together while sharing conversation that often centered on faith and living a life for God. This family unit was part of the larger village, where families provided each other with community, safety, and mutual respect for the town elders: the grandparents.
My husband and I are grandparents to five grandchildren ranging in age from 11 to almost 4. We live within driving range of only one of these five, and a visit to the other four requires time, intention, and planning. Western society no longer calls for the voices of the older generation to have ongoing and valuable input into the lives of their grandchildren. Instead, it promotes the idea that the retirement years are for the express purpose of checking off a fun-filled "bucket list." For my husband and I, aging hasn't diminished our desire to travel, enjoy life, set goals, and dream dreams. Still, among those plans for our golden decades is a clear understanding that our value as grandparents is not simply to visit our grandchildren with gifts in our arms.
The pages of Scripture are clear about the value of grandparents and elders within the construct of the church and the daily living out of the faithful Christian life. Here are three ways the Bible informs the value of grandparents in the lives of their grandchildren and the church community-at-large:
1. Grandparents Serve as Teachers of Faith in Christ
"Only be careful, and watch yourselves closely so that you do not forget the things your eyes have seen or let them slip from your heart as long as you live. Teach them to your children, and to their children after them." Deuteronomy 4:9
This verse is often quoted in articles that speak to being a Christian and a grandparent. It is easy to skim it, tacitly agree with the words and ideas contained within, and never truly allow them to dwell in your life. I can attest to this.
The charge in Deuteronomy 4:9 is being given to the people of Israel prior to their entry into the land God had promised them and after their long wandering in the desert. The words are not intended to be something that we pick up as grandparents and suddenly realize that we are responsible for telling our children and grandchildren about our faith in Christ. Conversely, they are intended to inform our day-to-day manner of living in light of the goodness and generosity of our faithful God.
Be careful, and make sure that you Do Not Forget, the Scripture warns. Do not forget what God has done and how you have seen that God is good, mighty, and a doer of miracles. Then do what comes naturally when you are astounded, amazed, and generally full of love and delight about the things of your life: Talk About It.
Revelation notes that we are saved both by the blood shed by Jesus on our behalf and by the word of our testimony. The word of our testimony is the telling of the story of God in our lives. As grandparents, we can share perhaps a lifetime of stories that will teach our grandchildren the goodness of God. Even if we are new to faith in Christ, God has still written a story on our lives, and where possible, we can share it faithfully and lovingly with the generations that follow us.
2. Grandparents Are Called to a Lively and Fruitful Life
"The righteous will flourish like a palm tree, they will grow like a cedar of Lebanon; planted in the house of the Lord, they will flourish in the courts of our God. They will still bear fruit in old age, they will stay fresh and green, proclaiming the Lord is upright; he is my Rock, and there is no wickedness in him." Psalm 92:12-15
These verses found at the end of Psalm 92 serve as a vibrant depiction of the value of a righteous grandparent. As grandparents who have chosen faith in Christ, we can trust that we are found righteous because of his blood. Within this righteousness, not of our own making, we find a flourishing and lively life that includes bearing fruit and proclaiming the attributes of God.
Palm trees are known for their resiliency and strength within a storm, as well as for their deep roots and beauty. The cedars of Lebanon were considered a beautiful gift from God and a majestic source of wealth. Consider the meaning and honor that these two similes confer upon all those who accept Christ as their Savior and the specific end result for those who are older. As grandparents, we can be a wealth of wisdom for our grandchildren, and because of the resiliency and calm strength developed in our lives and souls, we may have the opportunity to continue to proclaim a message of good news.
A few years back, I shared with my youngest son that I intended to stay actively involved in the local church until the end of my days, and I am choosing to do those things that aim toward a lively and fruitful life. As a part of a lively and fruitful life, I will likely choose to spend some of my time traveling, volunteering in my church and locally, and spending intentional time loving and being with my grandchildren. Exampling a lively, fruitful, and righteous life is of great value to the following generations.
3. Grandparents Are Forerunners of Generational Faith
"One generation will commend your works to another; they will tell of your mighty acts." Psalm 145
Psalm 145 is a psalm of praise. Its lines detail the goodness of God and extol the virtue of his character. The psalm also speaks to the commission from God that one generation shares its faith forward to the next generation and the next. Deuteronomy 6:9 details the beginning of this legacy-in-the-making as it directs God's people to talk about his commands to their children "when you sit at home and when you walk along the road, when you lie down and when you get up."
Yes, for a grandparent, sharing their faith begins as they raise their own children and opens the door for the potential of generational faith. The legacy of a faith that is carried from generation to generation often finds its seeds in the place of prayer, is supported by a lively and fruitful life that models to our children and grandchildren a love for Christ, and is sealed with the lifelong stories of the goodness of God in our lives.
Many Scriptures speak specifically to the value of grandparents and the older generation throughout the Bible. Alongside these verses, it is also important to note that the whole of Scripture speaks to the tenets of faith and godly living. As we age and approach retirement or become grandparents, we may unwittingly adopt a mindset that our time has passed, that the church's work is for the younger generation, or that we are not as capable as we once were. Scripture shows that our value, and the story that God is writing on our lives, is ongoing and full of worth for all of our days.
Roles may change, and capabilities may diminish in one area and grow in another, but our value remains consistent. As the older generation, we must choose to think biblically about our value and role within the church and our family by speaking the truth of Scripture to ourselves as we "fan into flame the gift of God" (2 Timothy 1:6) that lies within each of us, and do not "become weary in doing good." (Galatians 6:9) In this way, we can be ready teachers of our faith in Christ, living out our value as fruitful grandparents and, in the process, creating a legacy of generational faith.
Photo credit: ©Getty Images/monkeybusinessimagesg
Stacey Monaco has been speaking and writing since her first unpublished children's book in the fifth grade. Her journey as a writer has taken her from the depths of blue water exploration, to the simplicity of crafting words to encourage and educate in the areas of loss, legacy, leadership, and living life passionately with purpose. Stacey received her Masters Degree in Christian Ministry and Leadership from Talbot School of Theology, and has worked in many roles from slinging coffee to pastoring women. To find more on living the Christian life with intention, head over to her website at StaceyMonaco.com.
Related podcast:
The views and opinions expressed in this podcast are those of the speakers and do not necessarily reflect the views or positions of Salem Web Network and Salem Media Group.
Related video:
Read the full article, 10 Things Grandchildren Need to Hear.