4 Powerful Ways Grandparents Can Impact Their Adult Grandchildren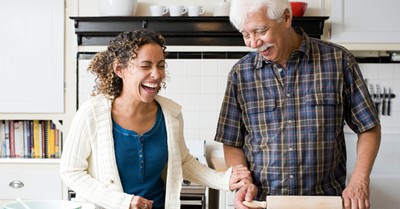 By Stacey Monaco, Crosswalk.com
Currently, I am at what I consider the early end of the grand-parenting spectrum. I have five grandchildren, with the youngest just in preschool and the eldest having recently had his last first day as an elementary school student. So yes, the clock is ticking on just how soon I will have a teenage boy as a grandchild. One who just might tug away as I try to pull him in for a tight hug and a kiss on the forehead.
I must take action while I have the opportunity to show each of these grandchildren my love for them, my faith as a woman of God, and my heart toward them as unique and valuable human beings who will someday have the opportunity to impact the world. Still, like parenting, being a grandparent is a long-haul endeavor for those who desire to have a lasting influence on future generations. As a grandparent, I find myself thinking about topics such as legacy, faith, and a testament of love that will endure long after my years of rambling this earth have been completed.
With this in mind, I have taken the time to allow those who have come before me to inspire and inform how I can continue to influence my grandchildren as they grow into adults. For some of you reading here, your grandchildren may be full-fledged adults, and you may feel that they have grown distant or that you have missed opportunities to encourage, love, or pour wisdom and legacy into them. I would encourage you that Scripture is clear and full of new hope that we daily have an ongoing opportunity to begin again, trusting God to be with us in our desire to love and minister to our family.
In Lamentations 3:22-23, the Old Testament prophet Jeremiah exhorts the people, "The steadfast love of the Lord never ceases; his mercies never come to an end; they are new every morning; great is your faithfulness." The words of the prophet, written for a people failing to honor God, served as a clear call back to hope and to the plans and purposes of God. As grandparents seeking to have a lasting effect on our adult grandchildren, the words of Jeremiah remind us of the character of God. We have the opportunity to seek the power of the Holy Spirit so that we reflect the character of Jesus in these ways: showing steadfast love, extending mercy daily, and trusting in the ongoing faithfulness of our holy God.
Every moment we have a new opportunity to begin again. Here are four powerful ways that grandparents can impact their adult grandchildren.
1. See Your Adult Grandchildren Through the Eyes of God
At the creation of man and woman, God declared that he had made them in his own image. Then in Genesis 1:31, with mankind as the pinnacle of his work, we find our Creator in a moment of reflective observation, "…God looked over all he had made, and he saw that it was very good." Very Good.
This is the launch point from which all of humanity begins, and God proclaims that it is very good. Yes, Adam and Eve eat the forbidden fruit, but let's be honest, if they hadn't, one of us would have. Still, God never revokes the beauty of the original design. We are made in the image of God, and his creation is very good.
When our grandchildren are first born, most grandparents cannot help but see the squishy bundles of new life as anything other than very good, but like all human beings, these little ones will grow and make choices that disappoint. When our grandchildren become independent adults, we have a unique opportunity to continue to see them with the heart and mind of God, prayerfully seeking the Holy Spirit to direct us in our relationship and mindset toward them, as they experience the choosing and growing pains that come with the adult experience.
As Christian grandparents, the apostle Paul assures us in 1 Corinthians 2:16 that we have the mind of Christ. Deciding intentionally to see our adult grandchildren through the perspective of the missional heart of God enables us to move toward them in love. Like every generation before ours, there is often a clear differentiation between our choices and those that our grandchildren are making. The differences may feel unsettling, and we may strongly desire that they would live more like we did at their age. Loving them well means looking beyond the potential generation gap that will diminish your relationship with them and adopting the mind of Christ toward them as you seek to understand them more fully, as the thinking and choosing unique adults they have become.
2. Tell Them Your Stories, Especially the Funny and Flawed
We all have heard the expression "Hindsight is 20/20," and we know it is an unquestionable truth that we always see life more clearly when we are looking back at what has already taken place. This fact can skew our ability to communicate truth lovingly and exacerbate the gap between us and the loved ones with whom we long to build a loving connection. Our grandchildren are still forging a path toward what they, and we, hope is a bright future. While they probably would gain greatly from one or two of our life lessons, they are much more likely to hear them if we make the intentional choice to share our history through the lens of humor and vulnerability.
Having a mindset that leans toward understanding because you have made the same misstep or outright total mess of things can go a long way in bridge building. Sharing your vulnerable stories with humor and transparency may cause your adult grandchildren to open up to you and see you as humble and human.
Some of my favorite messes include running over the mailbox of my best girlfriend because of my inability to reverse a car with any degree of skill and finesse, rolling my infant daughter out of her Moses basket and down a driveway, when the handle of the basket slipped from my hand and sitting in the office of my firstborn's pediatrician covered in baby poop due to a diaper dilemma.
We each have stories like these, as well as more serious situations that can be shared in a manner that will speak volumes about our personal understanding that we are simple sinners saved by the grace of a loving Savior, put here on earth to laugh, love and be living examples of his good news to everyone we meet.
3. Ask Good Questions and Listen Well
The words of Ecclesiastes 3:7 provide the reader with the timeless wisdom that there is a time to keep silent, and a time to speak.
When seeking to create a mutually respectful relationship with maturing grandchildren, patient listening coupled with asking questions that reflect true regard for them as adults, as well as for their ideas, diverse perspectives, and hopes for the future, can be one of the best tools for building a firm and interactive bond.
As a godly grandparent, it is easy to give way to fear and overt concern when witnessing the twists, turns, and, sometimes, rocky path walked by the grandchild that we love so dearly. Listening intently without judgment and using words to encourage and affirm your love reflect the biblical guidance of carefully choosing when to speak and when to keep silent.
4. Simply Be a Friend
Ultimately, having a meaningful and impactful relationship between grandparent and adult grandchild requires at least one of the parties to be willing to bridge generational and age-related differences that are naturally present as our grandchildren cross the threshold into adulthood.
As a young, newly married woman, my grandmother-in-law became the gold standard of what it looked like to love in word and deed, as she intentionally and carefully sought out a relationship with me. She would invite my husband and me to her home, where she would fill our stomachs with simple and delicious food and then pepper us both with questions about our lives. As we sat at her dining table, she would lean in as we spoke, as if each word uttered was filled with great significance. She would ask questions and deftly draw out details while affirming our ideas and thoughts as interesting and worthy. Often she would introduce her own topics, and I remember well showing up for a visit just between the two of us, where she has pulled out a well-researched article on aging well. We talked as peers, and though I was in my very early twenties, she made it clear that she loved conversation with me and valued me as a friend.
Now in my early sixties, her impact had such power on my life that four decades later, it still resonates. She truly loved and encouraged me both by her words and her actions. The impact of a godly grandparent on their adult grandchildren has the potential to create a legacy of love that can flow into future generations. There is a simplicity in stepping into the humble call to daily live out our faith in the greatest and most dynamic manner possible: Love God and love people. Really love them. Love them more than our ideologies and concepts of how we might have imagined they would turn out. Love them more than our concern for appearances or how their choices might reflect on our family.
Love like God loves us, with a clear understanding that we will fail, and the kindness to make way for us when we do.
Photo credit: ©GettyImages/Image Source
Stacey Monaco has been speaking and writing since her first unpublished children's book in the fifth grade. Her journey as a writer has taken her from the depths of blue water exploration, to the simplicity of crafting words to encourage and educate in the areas of loss, legacy, leadership, and living life passionately with purpose. Stacey received her Masters Degree in Christian Ministry and Leadership from Talbot School of Theology, and has worked in many roles from slinging coffee to pastoring women. To find more on living the Christian life with intention, head over to her website at StaceyMonaco.com.
Related podcast:
The views and opinions expressed in this podcast are those of the speakers and do not necessarily reflect the views or positions of Salem Web Network and Salem Media Group.
Related video:
Read the full article, 10 Things Grandchildren Need to Hear.