How to Pray for a Wayward Grandchild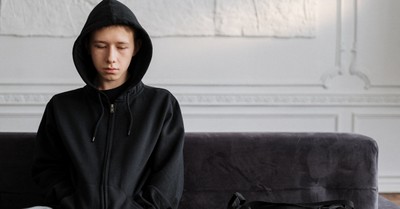 By May Patterson, Crosswalk.com
Are you the grandparent of a wayward grandchild? If so, it must be pretty painful. Your words may be ignored. You may feel ineffective. Your efforts to be a godly influence may seem fruitless. And your prayers may not be answered for a long, long time.
My heart goes out to you. I'm writing to remind you of truths that are easy to overlook when you're hurting: the long-term value of prayer and the mysterious working of the Lord to save.
I hope his story encourages you—as a parent and as a grandparent—to never give up on a soul, trusting that the Lord will save, at just the right time:
My friend Steve's mother prayed for his soul—and the souls of her grandchildren—for a very long time. As Steve wandered farther and farther from God, it must have been very difficult for her. But she never stopped praying for Steve and his family.
Steve casually tossed the new Bible his mother gave him aside, not even bothering to open it. As a rebellious 14-year-old, he had no interest in God at all.
Four years later, when his mother helped him move into his dorm room, she placed the Bible on his bookshelf. But never opened it during his college years—not even once.
When he moved back home, somehow the Bible moved with him. He threw it into a drawer in his new apartment, but he never opened it—not even once.
Steve got married, took over his late father's business, and had two girls. Somehow the Bible stayed with him, move after move, but he never opened it—not even once—until April 1, 2001.
Early that morning, Steve found a notice on his desk. The bank was calling in his loan, leaving his company insolvent. In one day, he lost everything he had. As reality crashed down upon him, the truth about his life became painfully clear.
Steve said: "I squandered away my Dad's company. I was irresponsible. Arrogant. My marriage was under great strain. I had no relationship with my mother. I was a poor parent. I did not know God at all. I managed to mess up every single area of my life.
"That day, I had to call my mother and tell her I had lost Dad's company. I was utterly humiliated.
"I drove around for hours in a daze. Finally, I ended up in the sanctuary of a nearby church on my knees, admitting to God that I was completely broken. I wanted to get to know Him, but I didn't know how. I prayed, Lord, please lead me to you, and If you do, I promise to never walk away.
"Later that night, I couldn't sleep. I paced back and forth alone in my den, not knowing what to do. And that's when I noticed the Bible Mama had given me, still unopened on the bookshelf. We had other Bibles in our house, but curiously, I picked up the one Mama had given me, so long ago.
"When I opened it, I was surprised.
"Back in 1977, Mama had underlined key passages and wrote little notes to me beside them. Her message was timely, even 24 years later. I read the marked passages over and over, as if my life depended on it. Her highlighted verses and notes guided me to the Lord on the darkest night of my life.
"The next day, Mama left a note for me at my office. It said: 'I've prayed for your soul since the day you were born, and I always will. I pray for your children, too. Have faith; the Lord will take care of you.'
"For 38 years, my Mama faithfully prayed for me while I wandered away from God until I was ready for a relationship with Him. Thankfully, she didn't push or badger me—that would have just pushed me further away from God. Instead, she prayed, not just for my outward circumstances, but for my soul, and the souls of my children. And I'm so thankful she never gave up.
"I took baby steps at first, and even though I've stumbled at times, God has transformed me into an entirely different person. Now, my life is filled with purpose and joy. My marriage has been restored and I've rebuilt my company. My girls have a strong faith. Our family is active in ministry to others. Remarkably, the Lord even changed me from a rebellious son to a doting one. In the last years of Mama's life, God enabled me to love and serve her like I never could before.
"I'm so thankful Mama prayed for me and my family."
While encouraging children and grandchildren spiritually can be rewarding, it can be pretty frustrating as well. But Steve's experience reminds me—and hopefully, it will remind you, too—that souls are at stake, so we should never give up. This powerful promise helps me keep praying for my family: "So, let's not get tired of doing what is good. At just the right time we will reap a harvest of blessing if we don't give up." (Galatians 6:9 NLT)
Here are 5 ways to pray for wayward grandchildren:
1. Pray for your grandchildren's spiritual needs.
Steve's mother prayed that he would walk with God and be a godly father to his girls. She also prayed for the souls of her granddaughters. It took 38 years, but eventually, God honored her prayers. I believe God will also honor yours.
Sometimes, we tend to limit our prayers to ordinary things, such as making good grades or finding the right college. And while these are great issues to pray for, we should also pray for our grandchildren's deeper needs—the needs of their souls.
2. Pray for your grandchildren's prayer requests.
When I ask my grown children how I can pray for them, sometimes it opens up a meaningful conversation—and sometimes it doesn't. But hopefully, it shows them that I'm genuinely interested in whatever they're doing. It also shows that I believe the Lord answers prayer. And it points them to God in a non-preachy way.
Ask your grandchildren for their prayer requests. This shows that you care about their lives and that you believe prayer is important. They may look at you as if you're crazy, or they might just take you up on your offer to pray. Their requests may even surprise you. And hopefully, they will realize how much you love them.
3. Trust in the Savior as you pray.
Steve's mother trusted the Lord to save her family's souls for many years before they were saved. Of course, I'd rather the Lord save everyone right now. But just as God had a good plan for Steve, He also has a good plan for my family and for yours.
Trust the Lord to do what you cannot do. No matter how good your intentions are, you can't save anyone—even your precious grandchild. But you can trust the Savior to save, indeed. Here's why: Jesus doesn't just try to save, He saves (Romans 8:1). He doesn't partially save, He saves completely (Hebrews 7:25). He doesn't save short-term, He saves forever (John 5:24). Trust Him with your grandkids. Don't badger. Don't guilt. Trust their souls to the Savior as you pray.
4. Pray through the wait.
Many times, God's answers come packaged in decades, rather than years. While Steve's mother waited for God to work, she was active. She taught Sunday school and studied her Bible every day. She went to church with her granddaughters and daughter-in-law. And even though Steve used to tease her about it, she never wavered. Her far-reaching influence on her family was (and is) remarkable.
As you wait for God to work in the lives of your loved ones, be active in your faith. Spend time with God. Worship. Serve others. Stand for the good. You may not think you have a great impact on your grandkids, but your influence means more than you think. Model what a faithful life looks like. Your grandchildren will remember your godly example for the rest of their lives.
5. Pray that God will help you be a "spiritual cheerleader" for your grandkids.
Since the evil one wars against the souls of your children and grandchildren every day, they need a lot of encouragement. Cheer your grandkids on in whatever they're doing that is good, whether it be big or small. Encourage any steps they take toward God.
Being a "spiritual cheerleader" is an important role that every believing grandparent can play. But as you cheer, be careful to give your grandkids enough space. Let them grow at their own pace (not yours) because being spiritually pushy might push them away from God—and away from you.
God's ways may be puzzling and even hard to accept sometimes, but there is no doubt that He wants you to pray for your grandchildren and to not give up. Prayer is one of the most valuable things you can do for another person. Even if you don't see any results, never underestimate the worth of your prayers.
7 prayers for Your Grandchildren's Souls:
1. Lord, please remind my grandchildren daily that your love for them is everlasting. "Praise the Lord. He is good. His love never fails." (Psalm 133:1 CEV)
2. Cultivate a grateful heart within them. "You are my God and I will give you thanks! You are my God and I will praise you!" (Psalm 118:28 NET)
3. Help them speak the truth to others and to themselves. "Discard every form of dishonesty and lying so that you will be known as one who always speaks the truth..." (Ephesians 4:25 TPT)
4. Fill them with joy and peace. "I pray that God, the source of hope, will fill you completely with joy and peace because you trust in Him..." (Romans 15:13 NLT)
5. Make them a blessing to everyone they meet. "Repay evil with blessing, because to this you were called so that you may inherit a blessing." (1 Peter 3:9 NIV)
6. Help them to listen to Your Word and do what it says. "... Blessed are those who hear God's word and obey it!" (Luke 11:28 NIRV)
7. May they never walk away from You; draw their hearts ever closer. "Draw near to God and he will draw near to you." (James 4:8 NET)
May Patterson has been writing and teaching Bible study classes for years. Last year she released her first book, "Seeking a Familiar Face." Now, she has just released it's companion study guide, "A 40-Day Guide for Seeking God." May trained in small group dynamics for over ten years with Bible Study Fellowship, serving as a leader for four years. She has written for various magazines including Focus on the Family, Upper Room Magazine and iBelieve, and is a sought-after public speaker. May is married to her dear friend, Mike, and they have three grown children. She loves to tell stories, laugh, and talk about the adventure of seeking God. Read more from May on her website and blog: http://www.maypatterson.com.
Photo courtesy: ©Pexels/Cottonbro
Related podcast:
The views and opinions expressed in this podcast are those of the speakers and do not necessarily reflect the views or positions of Salem Web Network and Salem Media Group.
Related video:
Read the full article, 10 Things Grandchildren Need to Hear.