Don't Raise a Sinner or a Pharisee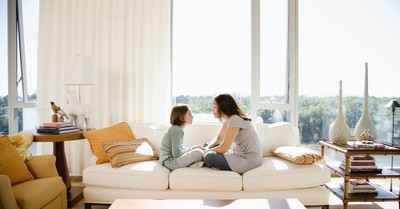 By Kate Stevens, Crosswalk.com
Most parents, even non-believers, would not strive to instill basic vices in their kids: lying, cheating, stealing, committing physical violence, calling names, acting disrespectfully, giving way to anger—we could all add to this list.
In our culture, we can even see the opposite of these basic virtues. The mid-level fashion industry has really upped its game on screened tees with all sorts of messages like "in a world where you can be anything, be kind" and "plant smiles, cultivate kindness" and "be happy" and "be a nice human." This goes to show that there is a basic morality in all of us. And I'll come back to this idea in a minute, but there is an offshoot here that is wildly important to consider. Why act upon that basic morality?
The Human-Machine
In "Mere Christianity," C.S. Lewis says, "In reality, moral rules are directions for running the human machine. Every moral rule is there to prevent a breakdown, or a strain, or a friction, in the running of that machine." The difference between the world and those in Christ is that we have a why behind our doing—the world does not. Quite simply, our why is to glorify the Lord. It never changes. It does not matter the circumstances or the participants. It does not matter if the doer receives no virtue in return. The doer can be reviled and cast out, but if they loved others around them well with keeping the Lord in mind—they could stamp it with a "success."
However, the world has no ultimate purpose behind pushing its virtue. And whatever attempts are set up to create a purpose is futile. "Sow kindness to reap kindness"—what happens when that farmer sows and sows yet reaps little to nothing consistently? What is the reason to continue? Even the purpose of making the world a better place—how is that quantified and measured to see if the methodology is working? An external stimulus is necessary here to achieve the machine's ambition.
In instructing our children to abstain from those basic vices, we must take it much deeper and tie it to something bigger than them. It is impossible for what the agent creates to have a higher meaning—in other words, man's actions with man as the motivator will only yield a man's type of results. We must aim at something much higher than ourselves in order to produce something more significant than us: God's glory. "And we all, with unveiled face, beholding the glory of the Lord, are being transformed into the same image from one degree of glory to another. For this comes from the Lord who is the Spirit" (2 Corinthians 3:18).
A Grand Separation
Motivation matters because it separates worshippers from behaviorists—a child of God from a legalist. There is grace for those who submit their allegiance to the Lord yet fall short because of a fussy attitude. There is nothing but shame for the one who yields no physical showing of their efforts toward goodness—shame and a hundred reasons to throw in the towel.
Consider Israel. The Lord told them their outward actions meant nothing to him because the conditions of their hearts were sour—in essence, their motivation was selfish (Isaiah 1).
In no culture is it acceptable and celebrated to be a traitor or a coward. Universally, liars and thieves are not esteemed, and no one is putting up statues and memorials to remember murderers. Some vices are up for debate, depending on the standard: disobedience toward parents, pride, purity, or drunkenness—another aspect of this that separates believers from the world.
A Sense of Justice
Not raising a sinner or a "bad kid" if you live according to the world's standards is most definitely a point of commonality between believers and the world. I've read parenting books with no spirituality embedded at all, and their overall counsel wasn't entirely wrong—just misguided. However, we definitively part ways where we, as Christian parents, continue in our shepherding their hearts past the commands to obey the Lord and walk in his ways to where we instruct them in showing compassion, mercy, and humility towards others.
One of my daughters has a high sense of justice. "Mom. So and so took a keychain to the playground after the teacher said to leave everything behind!" "Mom. So and so threw a tater tot during lunch today, and the cafeteria monitor said no throwing food!" "Mom. Margo (her younger sister) did not brush her teeth!" It is a constant flow of information I genuinely care nothing about—except for that last one. But then I noticed her doing this with the books we read aloud in the evenings when a character commits some evil deed. She points out how sassy Taylor Swift is in her music. She lectures our 80-pound golden doodle, Sasha, when she tracks in mud. She can survey people and situations very promptly, abruptly rendering all the violations and offenses committed. Sometimes it is a blessing. Like the time I was hastily (and angrily) trying to get everyone out the door in the hopes of being at school on time—she simply asked me which fruit of the spirit I was missing at that moment. Ha! What a girl.
But most of the time, she's acting in pride. I say this because she is rather slow-moving at recognizing or admitting her own sin. And I think a lot of us could identify with this, especially if we were brought up in the church. At least, that is my story. Which is why my favorite parable in the Bible comes from Luke 18:9–14.
Pharisee and the Tax Collector
It's the parable of the Pharisee standing and praying, "God, I thank you that I am not like other men, extortioners, unjust, adulterers, or even like this tax collector. I fast twice a week; I give tithes of all that I get" (verse 11–12 ESV). I mean, he is not lying here. He does not indulge in those vices, but instead, he faithfully fasts and tithes. Outwardly, he looks like one of the saints. But inwardly, he is rotten. He is using this false piety to exalt himself. Back in verse 9, it begins by saying Jesus was speaking this "to some who trusted in themselves that they were righteous, and treated others with contempt." This Pharisee is trusting in his works and not his Lord.
But trusting in his works requires a different motivation since he is no longer propelled by desiring to honor the Lord, which is where the contempt comes in. He must compare his behavior with those around him to gauge where he is in life.
However, verse 13 sheds light on that contemptible counterpart to the Pharisee, "But the tax collector, standing far off, would not even lift up his eyes to heaven, but beat his breast, saying, 'God, be merciful to me, a sinner!" His actions may not strictly follow what the Jewish law was demanding then, but his motivation, his heart, was humbly submitting to the Lord in recognition that he needed God's mercy to make it.
Clean the Inside First
Out of the two of these, I would much rather my daughters be like the tax collector. And good grief, what a loaded statement.
In a world where appearance is made much of and where we like to judge based on what we see so that we can keep our households safe, I pray the Lord grants me the strength to instruct my daughters and my own selfish heart to "clean the inside of the cup and the plate, that the outside also may be clean" (Matthew 23:26).
It's natural and accepted nearly universally not to raise a sinner. But we are called to step into something much more profound and shepherd our children (and again, ourselves) to have compassion and mercy on others in their sin rather than condemn and shame. For it is when we condemn others that we forget the very nature of our Father: "But God, being rich in mercy, because of the great love with which he loved us, even when we were dead in our trespasses, made us alive together with Christ—by grace you have been saved—and raised us up with him and seated us with him in the heavenly places in Christ Jesus" (Ephesians 2:4–6).
Photo credit: ©GettyImages/Gravity Images
Kate Stevens is a worshiper, wife, and mom, and with the help of the Lord, that is her hierarchy of work. Beyond this, she works with the youth and children at her church and edits as a freelancer. She enjoys reading, writing, running, cooking, and practicing thinking pure and lovely things.
After being unsure if they ever wanted children, the Lord eventually blessed Kate and her husband Clint after nearly three years of waiting. They welcomed their first daughter in 2011, another daughter in 2013, and yet another daughter in 2016. Kate considers this her most time-consuming, emotion-full, sanctifying, not always pretty but trusting in the Lord's plan, and blessed work. Stuck in a house with four females, her husband Clint consistently reminds Kate of her identity and union in Christ.
You can read more of Kate's work here.