8 New Christian Artists to Listen To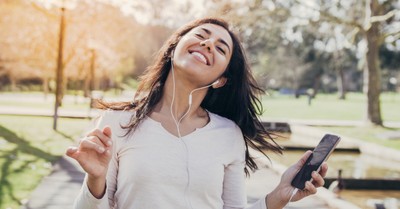 By Jaime Jo Wright, Crosswalk.com
Now, more than ever, we have access to great music from Christian talent that fits every genre and style. I remember the days when "Christian" music was its own genre and very distinct from the more popular talents at the time. Not anymore. You can typically find a Christian alternative to just about any type of music out there today.
With all the streaming services, it's even easier to self-discover many of these new artists—or new-to-you artists—and just as easy to follow them for all their future releases. New artists are regularly releasing, some obscure and some rising the charts fast under the mentorship of established Christian artists. We even have some "veterans" returning with their new album releases, such as Rebecca St. James, who has released her latest, and Mac Powell of Third Day pushing forward on his solo career. Not to mention some cross-overs from the likes of Gary LeVox of the super popular country band, Rascal Flatts, and collaborations with musicians like Chris Tomlin and Thomas Rhett or Lady A.
The favorites like Jeremy Camp, TobyMac, Mandisa, Michael W. Smith, Rend Collective, Tenth Ave. North and more are all still streaming and producing almost faster than we can learn the lyrics. But while it's great to listen to the radio hits and relatively easy to uncover their new releases, there are the more obscure and/or the up and coming that deserve a shout-out today.
To help you along, we've compiled a list of great new artists in the Christian industry that will likely earn a spot on your playlists for months to come!
1. Evan Craft – Latest Release: Desesparado (2021)
Enjoy music with riveting lyrics, catchy Latino influence, as well as a mixture of English and Spanish to drive home the truth in Craft's songs. With collaborations with Danny Gokey, Redimi2, and Meredith Andrews, Craft brings a freshness to the industry that crosses cultural lines while still issuing great music that will bless, challenge, and refresh you!
2. Kevin Quinn – Latest Release: It's About Time (2022)
Quinn's smooth vocals mixing pop and some jazz elements will enter you with its easy beat and exceptional sound. Known for his role on multiple Disney Channel programs, as well as his leading role in the recent Netflix release "A Week Away," Quinn is busting into the industry with his own unique style and taking his vocals into the market with a distinct aim to further a relationship with God. But don't think you'll be getting Disney-style pop when you try out his music. Quinn delivers music that adults and young alike will gravitate to.
3. Hope Darst – Latest Release: Peace Be Still (2020)
With one album to her name, Darst's rising hit "Peace Be Still" has become a staple across many Christian stations, with over 12 million plays on Spotify. A mix of pop-worship, her vocals are powerful but controlled with songs that explore the deeper elements of faith and relationship. For those who enjoy Hillsong, Maverick City, and reminiscent of the days of Point of Grace, Darst's music will be on repeat and uplift your spirits every time you listen.
4. We are Messengers – Latest Release: Wholehearted + (2021)
With four years between the release of their debut album and their sophomore album, We Are Messengers have grown in popularity. Along comes the release of their third album, and they've become far more well-known, led by lead singer Irishman Darren Mulligan. Their music is powerful and a powerhouse of message and song, with their Spotify description stating they "make rowdy music for broken, messy people and point them to Jesus." With over 350+ million streams, their music breaks through to the masses and attracts cross markets with a bold message that offers no apologies for their passion for Christ.
5. Matty Mullins – Latest Release: Single – "Show You the Cross" (2021)
An artist breaking out with a powerful new single, two previous releases from Mullins are already available. But it's his new single that is making marks on the industry and on people's lives. With an unapologetic, straightforward testimony, Mullins's vulnerable lyrics and contemporary melody make him a must on the to-listen-to list and a definite "follow" on Spotify.
6. Jordan St. Cyr – Latest Release: Single – "Weary Traveler" (2021)
Based in Manitoba, Canada, St. Cyr has released several singles, with his song "Fires" lasting 45 weeks on the Billboard Christian Airplay charts. With gritty vocals and undertones reminiscent of Third Day or Rhett Walker, St. Cyr is a new name to watch as he produces songs with truth-hitting lyrics and melodies that stick with you long after the song is over.
7. Anne Wilson – Latest Release: Single – "Sunday Sermons" (2022)
Anne Wilson took the single list by storm with her breakout release "My Jesus" with definitive Southern, country-style roots. Now she brings a new single that makes us country-lovin', Jesus-needin' music lovers want an entire disc of songs by this young woman who hides nothing about her passion for the Lord. Follow her on Spotify, and you'll be notified when she releases new music. She's an artist to watch out for with her universal message of hope.
8. Lydia Laird – Latest Release: Lydia Laird (2020)
With deep, rich vocals, Lydia Laird's songs resonate with the deep places in our souls. With thought-provoking lyrics and messages that explore the dangerous parts of anxiety, trials, brokenness, and more, Laird's music will entrance you with its haunting beauty. Openly vulnerable, Laird's songs are more than just music; they are emotional and moving, pushing all of her listeners closer toward the everlasting hope found in Christ.
Music really is a universal language that transcends so many other barriers, and finding great music is an adventure, to say the least. There are several honorable mentions to check out also:
Olivia Lane – Woman at the Well
Blanca – Even at My Worst
Nonah – Jump
Alisa Turner – My Prayer for You
Love & the Outcome – Moving On
JJ Heller – Hand to Hold
Ryan Stevenson – When We Fall Apart
Apollo Ltd – You
Want to learn more about Christian music out there? Spotify offers great playlists and compilations you can follow, created by other listeners, and made public, so you don't have to do all the searching and looking. There are also Spotify radio stations that compile "like" artists to your personal favorites. There's a wealth of Gospel, Rap, Rock, Contemporary, Country, Pop, and Folk artists in the Christian genres, so there's no excuse anymore to say that there's nothing "Christian" you like to listen to.
So while you're going about your day, take some time to turn on the background tunes and try out some new-to-you artists and bands. Filling your mind with edifying lyrics, worship that is glorifying, and tunes that are magnifying will only make your day better and turn your eyes where they should be - on Jesus. All it takes is some exploration, and you'll be off to build your own playlists of good songs, with great messages, fabulous vocals, and melodies that even your kids can sing!
Photo credit: ©GettyImages/MangoStar_Studio
Jaime Jo Wright is an ECPA and Publisher's Weekly bestselling author. Her novel "The House on Foster Hill" won the prestigious Christy Award and she continues to publish Gothic thrillers for the inspirational market. Jaime Jo resides in the woods of Wisconsin, lives in dreamland, exists in reality, and invites you to join her adventures at jaimewrightbooks.com and at her podcast madlitmusings.com where she discusses the deeper issues of story and faith with fellow authors.
Related podcast:
The views and opinions expressed in this podcast are those of the speakers and do not necessarily reflect the views or positions of Salem Web Network and Salem Media Group.