'If The Lord Build the House' Hope Darst Official Music Video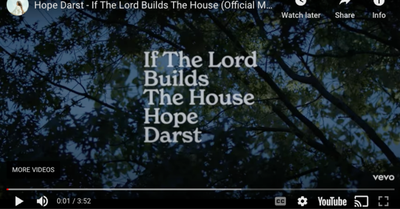 Crosswalk.com
In life, everyone will encounter troubling and trying situations. These unpleasant circumstances may result in difficult and ultimately unanswered questions. But no matter what happens, we can rest assured that the Lord will never leave or forsake us, as God's Word mentions.
Hope Darst, in the official video for her song "If the Lord Builds the House," reminds us that God will see us through those times. He will remain by our side, providing strength, comfort and love all along the way. Jesus Christ is the firm foundation.
People often find themselves in bad spots because they rely upon their own strength and ability. But as most have likely already discovered that always has been and will be a recipe for disaster. The lyrics in the song's first verse perfectly articulate this point.
Instead, building a life, a foundation on Jesus, who is the way, the truth and the life, will never be defeated or torn down, the chorus states. That house will remain standing.
"Cause if the Lord build the house
Nobody can tear it down
If the Lord builds the house
Nobody can tear it down"
In addition to the beautiful lyrics about building a life on the power and promises of Christ, the video also helps to drive home that message. A family of four – mom, dad, and two daughters – are seen getting ready and eventually leaving for church.
As this happens, the camera catches the mother reading in and turning the pages of a Bible. There are a couple of other close-up shots of the Bible. A copy of God's Word rests on the dashboard of the family's car and there is another one in the back of a pew in the church.
What a terrific, uplifting song with a truth-filled message about God's strength and power. He is the solid foundation for our lives!
Luke 6:48 "He is like a man building a house, who dug and went deep, and laid a foundation on the rock. When a flood arose, the stream broke against that house, and could not shake it, because it was founded on the rock."
Source: Godtube
Credit: Hope Darst
Image Credit: ©Godtube/HopeDarst