What Should You Know about Christian Singer Jon Foreman?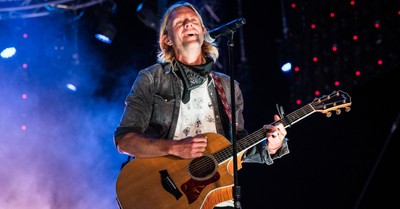 By Justin Wiggins, Crosswalk.com
Brought to you by
Jon Foreman is the lead singer of the San Diego rock band Switchfoot. His prolific music career has included his work with the band and numerous solo projects that millions worldwide have found spiritually nourishing. What makes him such a well-respected musician?
Who Is Jon Foreman?
Jonathan Mark Foreman was born to Mark and Jan Foreman in 1976. Growing up, he had a great passion for music and surfing. Although a college dropout, this passion eventually led him to become the lead singer of the rock band Switchfoot. The band has won a Grammy, played thousands of shows around the world, and produced 13 studio albums.
Foreman hasn't limited his musical work to Switchfoot—he has produced nine albums for various musicians. Influenced by the writings of C.S. Lewis, George MacDonald, J.R.R. Tolkien, King David, and the apostle Paul, Foreman has created timeless music for people from all walks of life.
How Has Jon Foreman Affected Christian Rock?
Switchfoot signed with the Christian music label Rethink records through Charlie Peacock in their early career (1997). At the time, Contemporary Christian Music (CCM) was popular. However, Switchfoot strived to write honest and hopeful music for people of all worldviews. Foreman and the other band members disliked being called a "Christian band," feeling it limited their work to a false dichotomy where the sacred and secular don't intersect.
"Christian music" developed as a marketing label partly because we humans like to categorize things and partly due to concerns about what qualifies as "sacred" or "secular" art. To some people, there is no "Christian music." To other people, there certainly is. Christians have debated over this for years. Much debate has also been over how Christian music can be spiritually nourishing, but sometimes formulaic, filled with emotionally manipulative platitudes.
Some bands (such as Skillet, Lifehouse, and Relient K) that don't adhere to the Christian music label have reached audiences outside the Christian community. Bands that stay in the market (such as Mercy Me, Casting Crowns, and Toby Mac) have also done great good. There is nothing wrong with calling a band Christian if the band has no objection to it, but Foreman never liked that label.
Like some bands that preceded them (such as U2 and The Call), Switchfoot has become known as an interesting band of Christians working outside CCM. They eventually moved to Sony Records, then Columbia Records, and after experiencing conflicts, settled with Lower Case People Records. What sets Switchfoot's music apart from some predecessors is while they have mainstream appeal, they are still associated with the CCM community because of where they started. They have neither ignored nor been ashamed of their roots, embracing both audiences.
From their first album (The Legend of Chin, released in 1997) to their most recent (Interrobang in 2021), Switchfoot has been the same group of honest Christians making music for thinking people.
Foreman has profoundly influenced bands inside and outside the CCM community. He has collaborated with Nickel Creek, Dave Matthew Bands, Relient K, Lauren Daigle, Madison Cunningham, and many others. Many musicians admire his honesty about the tension between doubt and faith in his music, his creativity, prolific output, how he lives out his daily faith, his contributions to the San Diego community, and his helping needy people worldwide.
As a writer, I don't call my books "Christian." I am a Christian who is a writer who writes about many things. My faith comes out in my writings, of course. But I write for people of all worldviews. Foreman taught me a valuable lesson about writing early on in my career.
10 Jon Foreman Quotes about Music and Faith
"Does Lewis or Tolkien mention Christ in any of their fictional series? Are Bach's sonatas Christian? What is more Christ-like, feeding the poor, making furniture, cleaning bathrooms, or painting a sunset? There is a schism between the sacred and the secular in all of our modern minds. The view that a pastor is more 'Christian' than a girls' volleyball coach is flawed and heretical. The stance that a worship leader is more spiritual than a janitor is condescending and flawed. These different callings and purposes further demonstrate God's sovereignty." — interview with Michael Horton, Ordinary: Sustainable Faith in a Radical, Reckless World
"You and I have a job description that remains unchanged: a love for our maker and a love for our neighbor. Do not be distracted by the yelling and the fear. Listen to the still, small voice. Care for the sick, the elderly, the hopeless, the broken. Love the outcast, the marginalized, the disenchanted. Fight for them. Arm in arm beside them." — "An Open Letter to the American Church,"
"The composer of time and space has given you a part in this great symphony. This is your moment. This is your opus. This is your life. I dare you to move." — from "Live Your Song," 2016 TEDX Talk
"I read the gospel like this: none of us deserve it. None of us have earned the right to call ourselves Christians. No, it is his grace alone." — "An Open Letter to the American Church"
"I remember going to the record store when I was a kid, spending all my bus-boy money on CDs at the end of the week. And the music store was this holy place where everyone was invited. Where differences were celebrated. Where the Beatles tried to sing like Little Richard and Aretha Franklin covered Simon and Garfunkel. And there I was, this kid who didn't fit in really anywhere thinking, "wow, music is a place where everyone belongs." — "The Story of Native Tongue"
"Our job is to love with the self-sacrificial love of Christ himself. We have a debt that remains outstanding: to love our neighbor as ourself." — "An Open Letter to the American Church
"Tonight we will sing our songs in an old theater in Fresno. And before we play a note, you'll find me praying for strength. Strength to live out a life of love and service. Strength to sing these songs of hope. Because our world is splintered with fear and hatred and pain. Because one individual does not define a nation, we the people do. Because the cynic is just a dreamer with a broken heart. Because love tells a better story than my fears do. Because hope deserves an anthem." — "Looking For America: Because Hope Deserves An Anthem"
"There's a certain amount of humility that is attached to wonder, and a certain amount of pride attached to knowledge and I think the moment you say 'we know beyond a shadow of a doubt this exists,' you can't have faith that it exists. Faith is no longer possible. So faith is only possible when doubt is possible. Faith is only possible when humility and wonder is possible." — official Switchfoot Facebook post
"So when the voices tell me to quit, to give in, to give up—I stand my ground. I refuse to be the cynic. It takes one to know one, you see, and I know cynicism far too well. So I raise my voice above the snickering sarcasm within and without and dare to hope." — "The Dark Horse: Joan of Arc, Elliot Smith and Me"
"I don't believe in a God who's afraid of my questions. I don't believe in a God who's afraid of me. Because a God that cannot be questioned doesn't sound like God at all. Part of believing is to doubt. To Ask. To seek. To knock, and ultimately to find. This is a song that steps into the ring with God. Asking the big questions at the end of a long, difficult season. This song is my honest attempt to sing into my doubts." — "Behind The Song: Jon Foreman Shares The Heart Behind His Song 'Jesus I Have My Doubts'"
Great Solo Albums by Jon Foreman
Over nine records, Foreman has explored death, doubt, pain, faith, hope, love, music's healing power, and what it means to be human and loved by Christ. His first solo project, Fall, came out in 2007. It was the first of his Seasons collection, four EPs each named after a season. After the seasonal EP project, Foreman started a series called Wonderland, inspired by the human experience of time over 24 hours. The first EP, Sunlight, appeared in 2015, followed by Shadow, Darkness, and Dawn were released after Sunlight. Each EP explores life's brevity, the present's joy, and the reality of sin, love, justice, and hope.
Foreman's most recent album, Departures, was released in 2021. It explores COVID-19's impact on people and global turmoil while asking honest questions about suffering, darkness, joy, and God's faithfulness.
Here is his solo work in chronological order:
1. Fall
2. Winter
3. Spring
4. Summer
5. Sunlight
6. Shadows
7. Darkness
8. Dawn
9. Departures
Artists Who Influenced Jon Foreman
Because Foreman's parents appreciated many different musicians and genres, he has a wide range of influences. Some influences he has mentioned include the Beatles, Bob Dylan, The Police, The Beach Boys, Elliot Smith, Bob Marley, Michael Been from the Call, Bono from U2, Radio Head, Johnny Cash, Aretha Franklin, Keith Green, and BB King.
Other Artists Like Jon Foreman
As mentioned earlier, Foreman has worked with various artists who create honest yet hopeful music glorifying God.
. Daigle collaborated with Foreman on the Departures song "Heaven In A Place Called Earth." The haunting song evokes the yearning in the here and now for the marriage of heaven and earth.
Foreman recorded a song with Ryan O'Neal called "Birthright" for Sleeping At Last's album Yearbook, released in 2011. The song explores the theme of life being a sacramental gift from Christ.
Sean Watkins of Nickel Creed started a side project with Foreman called Fiction Family, which has produced two albums: Fiction Family and Fiction Family Reunion.
Photo Credit: ©Getty Images/Rich Fury/Staff
Justin Wiggins is an author who works and lives in the primitive, majestic, beautiful mountains of North Carolina. He graduated with his Bachelor's in English Literature, with a focus on C.S. Lewis studies, from Montreat College in May 2018. His first book was Surprised by Agape, published by Grant Hudson of Clarendon House Publications. His second book, Surprised By Myth, was co-written with Grant Hudson and published in 2021. Many of his recent books (Marty & Irene, Tír na nÓg, Celtic Twilight, Celtic Song, Ragnarok, Celtic Dawn) are published by Steve Cawte of Impspired.
Wiggins has also had poems and other short pieces published by Clarendon House Publications, Sehnsucht: The C.S. Lewis Journal, and Sweetycat Press. Justin has a great zeal for life, work, community, writing, literature, art, pubs, bookstores, coffee shops, and for England, Scotland, and Ireland.
---
This article is part of our People of Christianity catalog that features the stories, meaning, and significance of well-known people from the Bible and history. Here are some of the most popular articles for knowing important figures in Christianity:
How Did the Apostle Paul Die?
Who are the Nicolaitans in Revelation?
Who Was Deborah in the Bible?
Who Was Moses in the Bible?
King Solomon's Story in the Bible
Who Was Lot's Wife in the Bible?
Who Was Jezebel in the Bible?
Who Was the Prodigal Son?
Related podcast:
The views and opinions expressed in this podcast are those of the speakers and do not necessarily reflect the views or positions of Salem Web Network and Salem Media Group.
This article originally appeared on Christianity.com. For more faith-building resources, visit
Christianity.com.